Agronomy on Ice — ag's big 'freeze-your tail'-gating event — mixes work and play
A loose-knit group of agronomy professionals in North Dakota — with podcast, blog and Twitter connections — staged their fourth annual Agronomy on Ice event at Devils Lake, North Dakota, on Feb. 2, 2022. Hundreds of people shuffled in and out on the ice, enjoying Scandinavian and German delicacies and conversation in ice houses while temperatures dipped to the -30 degree range, with wind chills in the -50 territory.
We are part of The Trust Project.
DEVILS LAKE, N.D. — It was just a tad chilly when the "cool kids" of agriculture gathered Feb. 2, 2022, on Devils Lake, North Dakota, for the fourth annual "Agronomy on Ice" event.
The event is a quirky Upper Midwest happening — 60 ice fishing houses lined up "tailgating style" in Creel Bay. Hundreds of ag nerds shuffling among the shelters, thawing out to smile, creating a wintertime tale to tell the folks back home. Perhaps 500 people attended, coming and going through the day.
It's fair to say it's a brain (freeze) child of Jason Hanson of Webster, North Dakota, owner of Rock and Roll Agronomy LLC, and his happy-go-lucky buddies. The friends started the snowball rolling a few years, saying they wanted to meet somewhere outside the standard North Dakota meeting places like Grand Forks, Fargo or Bismarck.
"We decided, 'hey, let's have a meeting in Devils Lake.' But somebody floated the idea of, 'why don't we have it on Devils Lake,'" Hanson recalled, "A lot of meetings I go to, you get a lot of networking and the good conversations are done after the meeting. We're trying to provide an environment where it's sort of like tailgating, with an ag flavor, on a lake."
Hanson thought they'd have had close to 700 attendees this year, if the weather hadn't turned. They might have had 1,000 if the U.S. Department of Homeland Security hadn't required proof of vaccination against COVID-19 for people traveling into the U.S. beginning on Jan. 22, 2022.
Of course it rained on Jan. 31, followed by a blizzard and a cold front. "That really hampered the traffic," he said.
The fourth Agronomy on Ice will be remembered for the weather.
Event-goers slid into the lake area on Monday, Jan. 31, 2022, with temperatures in the high 30s and several hours of rain, turning to ice, and snow on top. Some participated in the "virtual" fishing tournament on Feb. 1, with temperatures of 10 below zero and winds averaging 24 mph, and gusts to 55 mph.
The Feb. 2 event itself had temps of negative 10 to negative 20 and average winds at 10 mph winds, gusting to 25 mph, with wind chills more than 30 below.
No one seemed to mind.
The gathering has the feel of a tailgating party, about 200 yards out in Creel Bay, close to Woodland Resort. The resort cleared 1- to 2-foot snow drifts, covering the 20-inch-thick ice. All the stars of the region's ag media were there. There were vintage "ag swag" contests.
Hanson noted a "strong presence of Scandinavian food," including Norwegian and Icelandic delicacies. This year was rømmegrøt, lefse and krumkake. And lutefisk — a gelatinous codfish, pickled with lye.
"This year, the people of German heritage have had enough," Hanson joked. "So, we're having kuchen, sauerkraut and sausages, pretzels and desserts. (The Devils Lake Chamber of Commerce served walleye fingerlings, from the Lake Region Angler's Association, underlining their reputation as a renowned walleye capital.)
Of course there was Ryan Taylor, one of Hanson's cohorts from their North Dakota State University days, cooking his lutefisk out on the ice. Taylor ranches near Towner, North Dakota, and works for Ducks Unlimited in the Dakotas and Montana.
"You can cook it outdoors and the smell won't get you too bad," Taylor told one passer-by.
And something special this year — "Lutefisk Lager."
One of Hanson's chief chums is Kyle Okke, an agronomist for WinField at Dickinson, North Dakota. Okke said the "lutefisk beer" idea emerged from the "Agronomist's Happy Hour" a podcast the two host.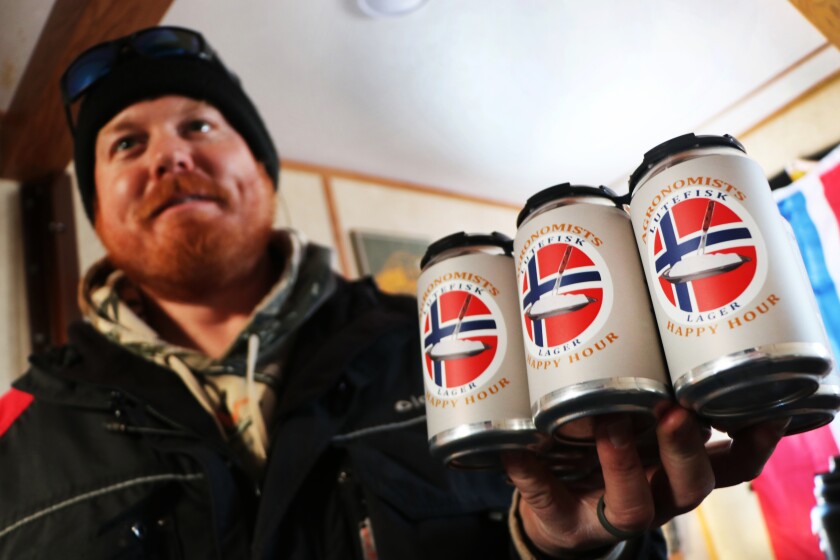 At the end of their podcasts, they typically "review" a couple beers. "One of these beers, Jason had, and he thought was not his favorite. He said 'I'd rather have a Lutefisk lager!'" Suddenly, the two thought, "Why not create 'Lutefisk Lager' beer?"
An artist friend who designed the logo for Hanson's business, designed a beer label — a Norwegian flag, a drawing of a plate of gray lutefisk, impaled with a drawing of Taylor's two-tined fork, and of course "Agronomist's Happy Hour." They put it on a "crisp golden ale" made by Laughing Sun Brewing Co., of Bismarck, North Dakota.
The duo had some six-packs labeled and offered it for donations for the novelty beer at the Agronomy on Ice, as a fundraiser for the North Dakota FFA Foundation. (They got permission, as there would be no underage current FFA members at the event.)
Students from Lake Region State College in Devils Lake ran shuttles for people from the land to the lake, as a fundraiser. Some students from the University of Minnesota-Crookston also attended. Some reportedly made internship and job connections.
Amid the fun can be heard some serious ag talk. Mike Ostlie, an NDSU research agronomist from Carrington, and Abbey Wick, a soil scientist, were there. Tim Hammerich and Wick were doing recordings and "dropping to Twitter" with their insights.
Greg Dahl, senior research manager for product development at Winfield United, has been to three of the events and praised the one-on-one and small group opportunities.
"I think it's a great place to meet the people who are in your field of work," Dahl said. "They're wonderful people. They know a lot. You're going to learn a lot. You're going to enjoy their company, meet new people. Make new connections."
Hanson said the long-term hope is to grow the event into some kind of ag show.
But the weather is an issue. "Either too cold, not enough ice, too much snow, blizzards — that type of thing," he said. But he likes the spirit: "We're out having a get-together on a lake. That's pretty 'North Dakotan' if you ask me."