Business owners in Lake City, Red Wing talk about economic recovery
U.S. Rep Angie Craig visited with business owners to discuss how they're weathering the economic downturn caused by COVID-19.
LAKE CITY — Discussing the impact COVID-19 has had on local businesses, Jim Mack, president at Lake City Federal Bank, said he's seen the devastation as he's worked with businesses to help them survive, including writing loans through the federal Paycheck Protection Program.
Mack talked about efforts to keep businesses going Friday as U.S. Rep. Angie Craig toured small businesses in Lake City and Red Wing to ask business owners what the federal government can do to help further their recovery and talk about new legislation being worked on in Congress.
"We did about 50 of them," Mack said, referring to PPP loans. "They average about $16,000. We had hair salons, day care providers, home-cleaners services. I think our largest one was $80,000."
Small businesses have been hurt the worst during the pandemic, Mack said, with about three-fourths of those 50 businesses he's helped with federal aid losing 50% of their revenue thus far in 2020.
Businesses along the congresswoman's tour ranged from Treats and Treasures, a small gift shop in Lake City, to Red Wing Shoe Co., the international shoe and apparel manufacturer based in Red Wing. Problems faced by these businesses ranged across the spectrum.
For example, Treats and Treasures owner Jil Garry said her biggest problem has been finding employees during the pandemic.
"One employee took time off in COVID due to health concerns," she said. "She got COVID and has not been able to return to work. Another employee has health problems, so her doctor advised her that she not work with the public."
Another potential worker was a retired nurse, but concerns over the pandemic have kept her from taking a job at Garry's store. Then there are college students, but they're going back to school.
"Short staffing is my main concern," she said.
Garry told Craig she did not avail herself of PPP, but is considering a local grant program funded through the Coronavirus Aid, Relief and Economic Security Act that might repay some of the COVID-19-related costs she's incurred.
Like all businesses that have had to shut down, Garry said she lost business not just from closing her doors, but from a lack of day-trippers who come to scenic Lake City for lunch and shopping once her store reopened. As the regulations regarding store openings have changed, her business has slowly increased.
That's the experience at Randy's Restaurant in Red Wing. Longtime restaurateur Joe Dube — he owned Randy's from 1986 to 2008, but is still active in the business, now owned by his daughter and son-in-law — said when the order was given to stay closed, he immediately applied for PPP in order to stay open, though business initially dropped in March before slowly rebounding through the summer.
Still, he said, the business is hoping to clear a 3% margin this year, which is about half what it normally earns.
"Normally right now, this dining room would be full," he said. Instead, the business is doing a lot of drive-thru and takeout orders.
Craig told him — and other small-business owners — Congress is working on a bill to forgive a portion of the PPP loans for small businesses, and perhaps, allow businesses that have lost half their revenue or more to take out a second forgivable loan. And, she said, the virus permitting, it's important to keep the economy open and send kids back to school where possible.
"My view is we want to keep the economy open; we want to keep kids in school, but that is going to vary by community depending on the spread of the virus," she said. "The more we can suppress the virus, the more we can send kids back to school, the more we can open our economy."
At Dux, an ice cream and coffee shop in Lake City, owner Gina Lynch told Craig that everything from serving hand-dipped ice cream during a pandemic to finding employees has put her revenue down about 38%. Lynch has utilized the PPP funding, but only after making certain she qualified.
"This is exactly who we are trying to help," Craig said. "If we can save the Main Street businesses, we can stave off a depression."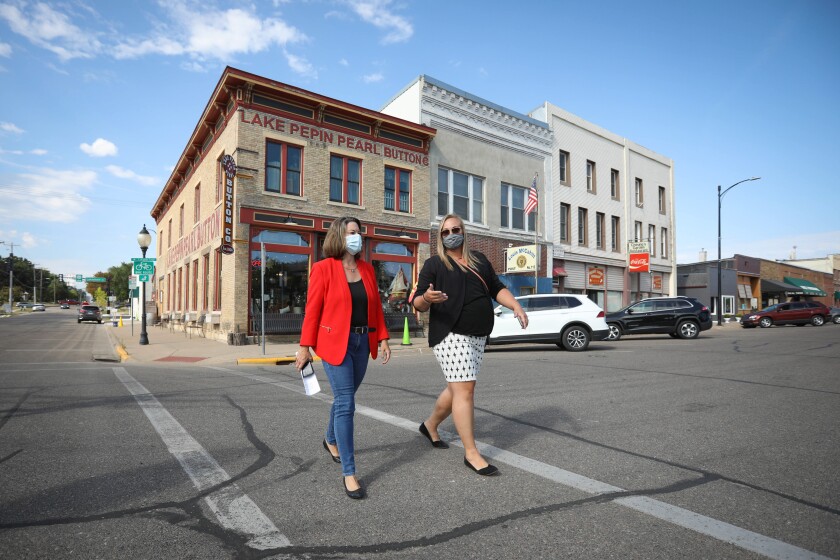 1
/
6:
U.S. Rep. Angie Craig (red jacket) takes a walking tour of Lake City with Michelle Larson, Lake City Chamber of Commerce Executive Director (black jacket), Friday morning August 21, 2020, visiting small businesses: Kennedy Drug, Dux Ice Cream, Coffee and More, Lake City Federal Bank, and Treats and Treasures. (Ken Klotzbach / kklotzbach@postbulletin.com)
2
/
6:
U.S. Rep. Angie Craig (red jacket) greets business owner Jil Garry on front of her shop, Treats and Treasures with an elbow bump during a walking tour of Lake City Friday morning. Craig toured Lake City small businesses with Michelle Larson, Lake City Chamber of Commerce Executive Director (black jacket), Friday morning August 21, 2020, visiting Kennedy Drug, Dux Ice Cream, Coffee and More, Lake City Federal Bank, and Treats and Treasures. (Ken Klotzbach / kklotzbach@postbulletin.com)
3
/
6:
U.S. Rep. Angie Craig (red jacket) talks with Robyn Udenberg (not in photo) at North Risk Partners during her visit to Lake City Friday. Craig took a walking tour of Lake City with Michelle Larson, Lake City Chamber of Commerce Executive Director (black jacket), Friday morning August 21, 2020, visiting small businesses Kennedy Drug, Dux Ice Cream, Coffee and More, Lake City Federal Bank, and Treats and Treasures. (Ken Klotzbach / kklotzbach@postbulletin.com)
4
/
6:
U.S. Rep. Angie Craig (red jacket) talks with Kennedy Drug pharmacist Megan Ahrens during her walking tour of Lake City businesses Friday. Craig took a walking tour of Lake City with Michelle Larson, Lake City Chamber of Commerce Executive Director (black jacket), Friday morning August 21, 2020, visiting small businesses Kennedy Drug, Dux Ice Cream, Coffee and More, Lake City Federal Bank, and Treats and Treasures. (Ken Klotzbach / kklotzbach@postbulletin.com)
5
/
6:
U.S. Rep. Angie Craig talks with small business owners during a walking tour of Lake City Friday morning August 21, 2020, visiting small businesses: Kennedy Drug, Dux Ice Cream, Coffee and More, Lake City Federal Bank, and Treats and Treasures. (Ken Klotzbach / kklotzbach@postbulletin.com)
6
/
6:
U.S. Rep. Angie Craig (red jacket) talks with Gina Lynch, owner of Dux Ice Cream, Coffee and More, Friday morning in Lake City. Craig took a walking tour of Lake City, Friday August 21, 2020, visiting small businesses: Kennedy Drug, Dux Ice Cream, Coffee and More, Lake City Federal Bank, and Treats and Treasures. (Ken Klotzbach / kklotzbach@postbulletin.com)