High-visibility feed maker Famo Feeds going strong
Famo Feeds Inc., of Freeport, Minnesota, is an unusual livestock feed maker for Minnesota because an independent, family-owned manufacturer has its own brand of feed. The company's colorful logo is a curiosity for the thousands of motorists and customers traveling along Interstate 94, en route to and from the Twin Cities.
FREEPORT, Minn. — Famo Feeds Inc. is a Minnesota's agribusiness with a storied history and high visibility.
Famo Feeds (pronounced "FAME-oh") stands big as life along the south side of Interstate 94, just west of Freeport, Minnesota, in Stearns County, in the heart of the state's historical dairy power. Many of the company's patrons know the company's logo long before they learn about their products.
"There's a lot of (customers) that run upland down the highway that run to Twins games, Vikings games," Beste said, of the location. "We get out into North Dakota, and you start calling on dealers and farmers: 'Well, we've never heard of you but we've seen you.'"
It is one of a small handful of family-owned regional feed manufacturers with their own brand.
John Beste, 62, is president of the company that has about 40 employees. This includes office personnel, but also a seven-person sales staff through the Midwest, including eastern and northern Minnesota, and North Dakota, and into southern Minnesota and Wisconsin.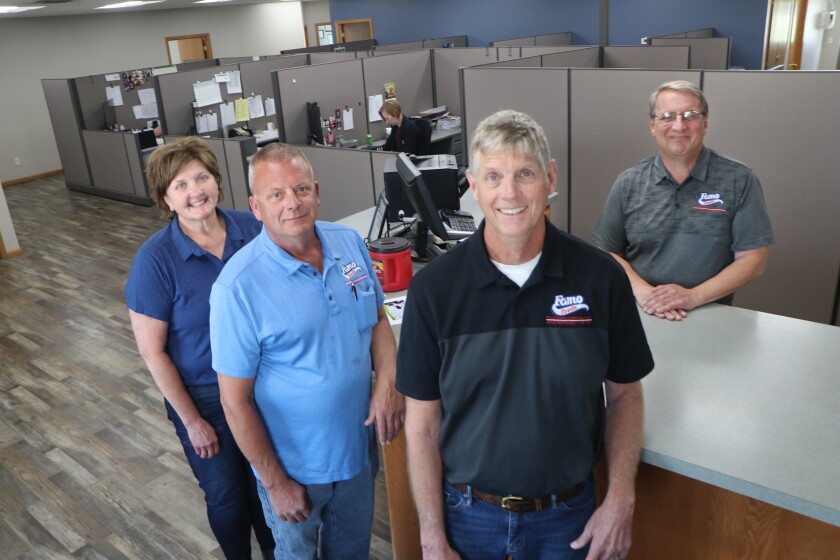 The company produces an array of products — feeds, starter feeds, supplements, concentrates, minerals, pre-mixes, base mixes, milk replacers, pet foods and specialty and custom feeds. It runs several of its own trucks that carry its brand, but many customers arrange their own trucking.
Loads go to Montana, North Dakota, South Dakota, Minnesota, Wisconsin, Iowa, Nebraska, Missouri, and — in the past year or so — to Colorado.
Famo Feeds started with a predecessor company known as Freeport (Minnesota) Roller Mills, started in 1903 by the Thelen (pronounced"TEE-len") family. Thelen families ran it as a grain elevator/flour mill. The Thelens coined the "Famo Feed" name — a variant on the word "famous" — and added a packaging tagline: "Famous for Quality."
In the 1970s, Jack Thelen and a cousin, Walter, split the company. The two eventually parted ways, with Walter taking the Swany White Flour Mill. Jack took Freeport Roller Mills, which became Famo Feeds about 20 years later. Jack hired Al Beste (John's father), a high school classmate who went to the military at the same time.
Jack died from cancer in 1978. Al Beste, who had become general manager, in 1979 bought the business. The company grew to manufacture products in St. Joseph and Belgrade, with distribution in several states.
In 1980, 20-year-old John joined the company, followed by younger brother, Tom, in 1986. The two bought out their parents in about 2000. They moved forward with a 3- to 5-ton per hour pellet production at St. Joseph, Minnesota, and a 5-to 8-tons per hour capacity at Belgrade.
And then, lightning struck.
The storm hit in 2002. The Famo Feeds' Belgrade facility burned to the ground. Initially, the company had their formulas "toll blended' by others. But soon the brothers decided to rebuild and recapture their manufacturing margins.
By 2004, the built the new plant along the interstate. It was well-positioned for markets to the north and west, jumping from Minnesota's most prominent dairy county.
"When you build new, you have the ability to put in computer batching, computer pelleting and all those things," John said. "It's not so easy to add that to old wood feed mills that are built in the 1800s, maybe."
The Bestes' new plant was able to pellet 15 to 18 tons an hour. "Mixing, we can do 50 ton an hour," John said. The new facility allowed them to put in computer batching and pelleting control. Eventually, it obtained Hazard Analysis Critical Control Point (HAACP) certification, which relates to 100% traceability.
The new Famo Feeds plant had bells and whistles. They automated the bagging process.
They installed a "micro-system" ingredient system that adds small amounts of certain ingredients to batches of feed without touching them.
The company has shifted its feeds to match changes in National Research Council standards for species, which can change with vitamin and trace elements. (NRC recently changed to NASEM — National Academies of Science-Engineering-Medicine.)
"We strive to make that ton the same, ton after ton after ton — same ingredients, same pounds," buying grain from local farmers and ingredients from the Upper Midwest, John said. Famo Feeds gets soybean meal from area crushing plants, wheat "mids" from plants in the Dakotas, and canola meal from the region.
In 2018 the American Feed Industry Association named Famo Feed their "Feed Facility of the Year " (both the "dry feed" and "overall" categories). It was the first family-owned business in their class before (or since) to win the award, which honors customer service, as well as plant improvements.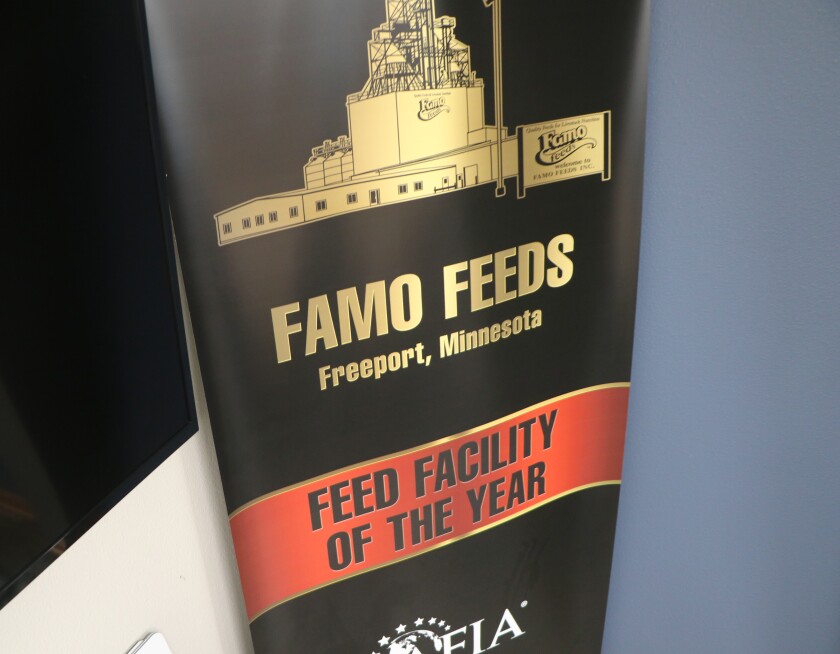 In about 2020, Tom retired. Today, John remains as the sole owner.
Dairy is still Famo Feeds' leading market, but beef is of increasing importance. The Holstein-cross beef business is expanding. Other specialty items flock poultry, equine, rabbits and goats.
Kenneth Swanson, a veterinarian who holds a doctorate degree in ruminant nutrition, is the Famo Feeds director of ruminant nutrition.
"There's some things that just feed better in a pellet, so the animal gets the same thing in every bite," Swanson said.
All feed starts as "meal," John said. Making it into pellets is an art — a combination of steam temperature, dye compression and formulation into durable pellets so it doesn't break down into a "crumble" or back into meal.
Pellets are needed in the so-called "steer-stuffer" rations, where producers want to ensure the entire package is consumed. Some animals need higher-energy (high oil content) feeds, but they don't always pellet well. The company makes them into "flowability pellets" to insure they flow out of the bins.
Swanson, who has been with Famo Feeds since 2013, said Famo Feeds offers the same caliber of technical support that customers can get from national brands.
"But we're much more nimble, and can make decisions much faster," he said.
In 2021, after the effects of the drought, Famo Feeds quickly decided to get into "cattle cake." Ranchers with fewer facilities, with normal feedstuffs impaired by drought, were able to purchase feedstuffs from dealers to spread on the ground to supplement brood cow herds over the fall, winter and spring.
Looking ahead, the cattle market is dealing with a lower number of animals because of the culling that took place during the drought of 2021. Cattle producers are working on getting breeding and feeding up to par.
"When prices are good you don't want to cut corners, because you really want performance from your livestock," Swanson said.