In Ely, Minn., Trump presidency has fueled innovation for one manufacturer
When asked to present his argument for Donald Trump's reelection, Ely Mayor Chuck Novak introduced Forum News Service to former Vikings mascot Joe Juranitch, who says his blade-sharpening business has benefited from the president's policies.
ELY, Minn. — In late August, Chuck Novak joined a handful of other Iron Range mayors in their endorsement of President Donald Trump.
The effort had the effect of reverberating beyond Northeastern Minnesota and capturing some national attention.
But Novak wasn't thrilled with the packaging — a letter hastily put together by U.S. Rep. Pete Stauber campaign staffers to coincide with Vice President Mike Pence's campaign stop in Duluth.
To say Novak was a lifelong Democrat wasn't true, as the letter indicated.
"And I don't like to say the economy is thriving or roaring up here, because that's not true either," the Ely, Minn., mayor said.
Still, Novak remains enthusiastic for Trump. This month, Forum News Service asked him to prove his case for the endorsement.
Instead of harping on Trump's support for the proposed Twin Metals copper-nickel mine near town, Novak introduced Razor Edge Systems — a manufacturer tucked into the northwest corner of town that specializes in blade-sharpening products.
"They're innovative as hell," Novak said. "It's a treasure in the city of Ely. It's unknown; it's not on Main Street; people drive by here and they have no clue what happens in this facility."
The company employs about 20 people and is co-owned by Joe Juranitch, who is better known as the former Minnesota Vikings mascot, Ragnar. For more than 20 years, Juranitch donned a fur vest and horned helmet to the excitement of professional football crowds in Minneapolis.
But since Juranitch and a sister bought the company from their father, John, about five years ago, Juranitch has poured himself into its success.
From Juranitch's perspective, Trump has played no small part in the company's latest triumphs, which include a sharpener for hair-dressing shears, an industrial blade tester, and a personal respirator that seems from out of left field for a sharpening business, but is nearing production.
Juranitch cited Trump's 2017 Tax Cuts and Jobs Act with helping to fuel the company's innovative bent.
"We were paying 39% corporate taxes; now they're down to 21%," he said. "We've been able to take the money, which is a significant amount, and put it into our employees and developing new products."
The company's most famous product, the Mousetrap, is used in the meat processing industry to hone a blade with a few swipes of the knife.
But it's the latest innovations Juranitch was eager to talk about. Take the shear sharpener, for instance. One nearby Babbitt, Minn., stylist who was brought aboard to sample the product during development hasn't needed her shears sent away for sharpening in five years, because the Shear Saver hones the edges so well.
"If you have a pair of shears you believe is dull, your edge is still there, you just don't know it," Juranitch said.
The COVID-19 pandemic hit the company by slowing the rollout of new products, including the industrial blade tester that was bound to go into a major meat-packing company's facilities before coronavirus struck the industry hard and forced lots of new spending on responses to the virus.
" There's no one individual who is at fault on this one," Novak said — defensive of Trump's response to COVID-19. "We're in lockdown in the state of Minnesota; there's been no regionalization thought to this. We're living off what happens in the metro all the time."
Razor Edge entered the pandemic with momentum, and despite staying essential: "It knocked the wind out of our sails and diverted us a bit," Juranitch said.
But Juranitch credits Trump for helping to preserve the company's innovation nonetheless. He appreciates the president tackling China and its propensity for stealing intellectual property.
"Our goal is you need to be the first one out there, because if you're not you're going to get a country like China, which has distribution all over this country, take it and by that time it's too late," Juranitch said.
Juranitch said his company monitors its website and it can see Chinese companies spending lots of time looking at their devices.
Kenny Vojacek, 56, is a design engineer for Razor Edge. He came back to the Iron Range after spending 30 years working in the Twin Cities for heavyweight companies like Medtronic and 3M. Semi-retired, he's as adept at filling in on a welding shift as he is running research and development.
Vojacek came up with the bends in the shear sharpener's stainless steel which make it effective.
"We took the time to develop, go through R&D, take all the bugs out of it, make it work right and somebody can come across a picture of it on the internet and scan it in," Vojacek said, describing intellectual property theft.
"That's all they do is steal our stuff," Juranitch added. "You know how much money we have invested in this thing? It's a gigantic amount. And now for China to come along and knock it off? Yes, I have patents on this, but do you know what it's going to cost to defend it? I'm willing to do it, but I like that Donald Trump is going after China on intellectual property."
Juranitch recently gave his employees raises and bonuses. The workplace environment is friendly and clean, if a bit compact. The company is growing and won't be able to stay in its current location forever.
Using profits and tax savings, the company recently bought its third computer numerical control machine, a $100,000 unit that cuts parts from raw materials such as aluminum or steel.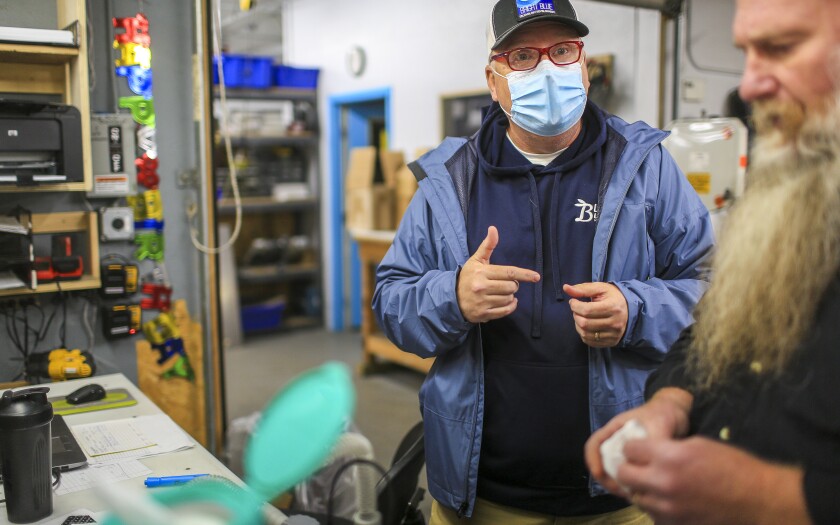 When Rob Mattila, 53, walked into the shop following his retirement as research and development director for Beckman Coulter in Chaska, Minn., he was struck by the equipment and innovation going on and was soon put on retainer.
A mechanical engineer raised on the Iron Range, he's been developing different iterations of a respirator mask for Razor Edge since the start of the pandemic, explaining that there are not enough single-use N95 masks for everyone, and hardly anyone outside the medical field.
"We said, 'Let's put positive air in there,'" said Mattila, whose wife works in a local clinic lab.
Single-use consumables, like the N95 respirator, he said, produce mountains of waste and were never intended to support the entire world population.
Razor Edge's respirator features a battery pack, base and high-efficiency particulate air filter which slips onto a belt along with a 3-D-printed mask over the mouth and nose. Positive air pressure flows through a tube into the mask, which Juranitch calls "the respirator for the rest of us."
The company desires to have a major player come along to endorse the product. Juranitch only half-jokingly said the National Football League ought to get involved, and Mattila believes it's the sort of advancement the region needs to thrive.
"The only way that we can win in the long run for the people of northern Minnesota and the state is by getting back to old-fashioned innovation — to really drive innovations that are meaningful and not just trivial extensions of something that was done 30-40 years ago," Mattila said.
Talking with employees in the shop, only one, who desired to remain anonymous, seemed intent on supporting Democratic presidential nominee Joe Biden.
"Biden says he's going to repeal the tax laws," Juranitch said. "No, don't do that to me."
"Trump is not a 50-year, long-term politician," Novak said. "He doesn't match up to what the expectations are in a politician. They don't know how to deal with a guy who came out of a business scenario."
That was Trump's first appeal for Juranitch, too.
"I wanted to see what a business person could do, and he's been nothing but good to us," Juranitch said. "If you're undecided, I get it. We don't all agree with President Trump and different things he's doing. But I trust the direction President Trump is taking us."