Bikers stay home, raise funds for local organizations
About 40 bikers enjoyed a ride Saturday to raise funds and have fun right here in Southeast Minnesota.
We are part of The Trust Project.
Who needs Sturgis when there's plenty of good riding in Southeast Minnesota?
On Saturday, the Steel Horse Militia hosted a "Stayin' Home From Sturgis" ride through the region for about 40 bikers while raising money for its trio of 2020 charities.
The group's vice president, Charlie Muerte, said the ride — which is taking place while a quarter-million riders descend upon the Black Hills — presented an opportunity for bikers to have a great ride no matter the reason they didn't head to the annual event in Sturgis, S.D.
"What we did is we found an opportunity to get the people together for whatever reason," Muerte said. "We really didn't have an agenda behind how you're not at Sturgis. It's more of, hey if you're here, we want to do something, get people out, get them riding and donating, and get them doing something good for the community."
Doing good in the community is one of the main functions of Steel Horse Militia. The group raises funds for Magic Yarn Project, a nonprofit organization run by Brenda Nelson in Stewartville. Nelson's group creates yarn wigs for youth cancer patients who have lost their hair during treatment but cannot tolerate traditional wigs due to skin sensitivities, Muerte said. Instead, the yarn wigs are made to look like hair of famous characters, such as Disney characters.
The biker group also donates to Camp Companion and the Channel One Food Bank, he said.
One of the participating bikers, who gave only the name "Tonic," and who lives in Mantorville, said he signed up for the Saturday ride to have some fun and support Steel Horse Militia in its efforts to support the community.
"These guys do a real good job of keeping money in the community," Tonic said.
As for Sturgis, he said he plans to go later in the week, but was glad to be around for Saturday's ride.
Charlene Lockwood-Sockett and her husband, Allan Sockett, both from Rochester, said they go on about five or six organized rides a year. They chose the Steel Horse Militia ride over others to help support the group and its charities.
The pair also ride for the Combat Veterans Associates, and, Allan said, even took part in the "Rolling Thunder" ride to Washington, D.C., in the past.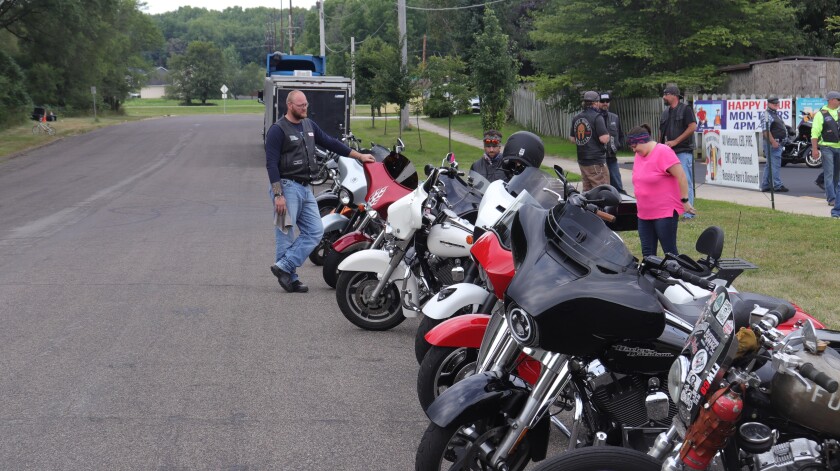 Not everyone who showed up at the American Legion on Saturday morning was planning to ride. Among the several families who showed up for breakfast and to support the riders was Elizabeth Thomson, whose son, Bobby, is president of Steel Horse Militia. She said the group works hard — and plays hard — while raising money.
"They do sales of their merchandise. They do raffles, and the proceeds go directly to the charities," Thomson said. "They're very giving, and they're really also very nice people."