Gauri Sood: More than good food comes to the table
The main course is good company.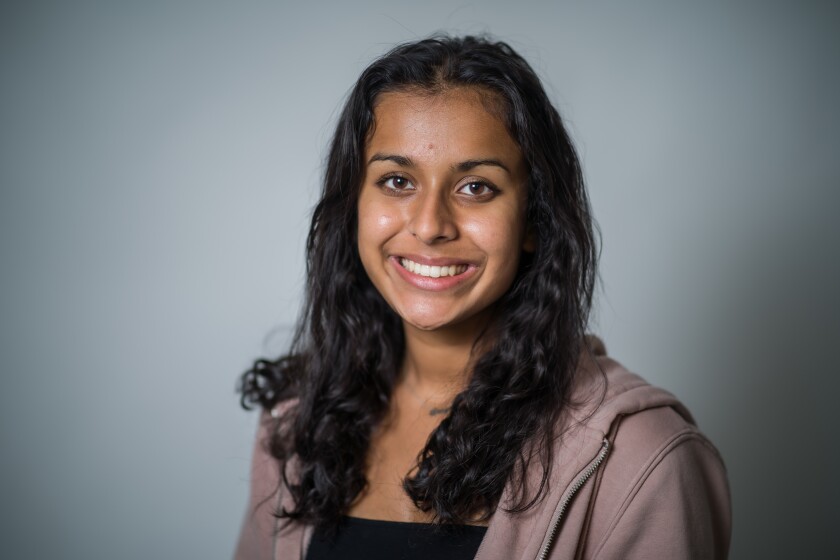 We are part of The Trust Project.
As winter approaches, soon come the days of cold nights, warm fires, and hearty meals. The holiday customs and most everyday celebrations revolve around food. But what creates a good meal?
I believe a good meal is much more than the ingredients it holds. The fried puri on my Thanksgiving table wasn't only salt, flour, oil, and spices; it had four main components. As did a shared margherita pizza from Five West with my mom-like friend, a late-night gyro with my favorite person, and a bubbling pot of messed up mac and cheese with my vivacious sister.
The first component is the food itself. The diversity of ingredients in each item and their contrasting effects create lasting happiness on my taste buds. The sweetness of the balsamic reduction on my savory pizza, the richness of the variety of cheeses in our mac n cheese, and the numerous flavors filled within the pita all contribute to the sumptuousness of every meal. I may argue, however, that the food itself is just a small part of the experience.
The main course (the second component) is good company. My margherita pizza excursion involved a friend with whom I have shared many stories, laughs, complaints, and cries. There's no judgment between us; we chat and smile and forget that things are changing, as every day we inch a little closer toward the future. Even now, when she is in college and I am not, I never question our connection and know that fancy pizza nights will be back soon.
My gyro evening was painted with deep conversations, thoughtful smiles, and the feeling of a time we hoped would never end. The mini yelp I released when realizing I had eaten a spicy pepper, followed by a giggle, would have been nothing more than a moment of discomfort if not for the friend in the passenger's seat.
My sister and I screaming to Taylor Swift's Red album while dancing around our kitchen made our meal more memorable than any other typical mac and cheese dinner and helped us forget about the fact that we dropped far too much black pepper into the pot.
The third component is ambiance. Whether we were lying on the basement floor, laughing and shoving piece after piece of pizza into our mouths, or sitting in a parking lot with the windows down, listening to soft music and smelling fresh fries with Greek seasoning, the atmosphere was one of enjoyment. My environment contributed greatly to the satisfaction and joy I found from the food experience, as a warm kitchen, streetlights and a beautiful sunset, and a lively basement all made the eating all the merrier.
And the fourth component is the state of mind. In every situation I shared, life (for the moment at least) was tranquil. Though there may have been a massive statistics test the next morning or a paper due date not too far away, we decided to focus our energies only on the next hour. We felt content and realized that we couldn't think about our future all the time; we need to enjoy where we are. And with that state of my mind, when eating the fancy pizza while laying on my stomach, that is truly what I did; I let myself laugh, forgetting the to-do lists and the take-home tests and the news headlines, and instead, focusing on the person sitting right next to me.
Our Thanksgiving puris may have been delicious, but that was only one contributing factor to its collective description of a good meal. Its scrumptiousness was coupled with a full table of conversations, soft background music, and a feeling of gratitude amidst an ambiance of kindness. The food itself found its place amongst all four components, and each ordinary meal became memorable.
Gauri Sood is a senior at Mayo High School. Send comments on teen columns to Jeff Pieters, jpieters@postbulletin.com.