Hugged by clothing
Laura Meihofer's attire driven by function and comfort.
Laura Meihofer made her way to Rochester in 2009 for doctorate degree training at Mayo Clinic. Now a private practice practitioner with a specific focus on the pelvic floor, she carries out a considerate and light-hearted approach with her patients.
"I love to make people laugh," she says. "I do it every day at my job where I often hold space for a lot of pain and healing. Being able to help people find joy and laughter is just the best."
Her spirited demeanor can also be seen in her style. "I don't want to take life so seriously and what I wear should reflect that."
She enjoys pastimes that require being active to include skiing, weightlifting, hiking and playing hockey.
How do you sum up your style?
Functionally fun with splashes of color.
Life motto?
Slowly but surely.
Does your profession impact the way you dress?
As a physical therapist, having clothing that moves with me is key. When I used to work in a business casual setting, I split my fair share of pants. Now everything I wear has to pass a squat test.
What do you think makes your style unique?
I like to include things that are visually appealing but also not necessarily a slap in your face as fashion-forward or trendy. To me this means really interesting jewelry, funky-shaped glasses, pants with zippers at the ankles, or a vintage blazer. I aim to sprinkle these items in so when people find them on me it is a treat to the eye. Also for me this is really joyful.
How has your style evolved over the years?
I used to just follow whatever I saw celebrities doing but would get knock offs. I mean I was wearing Uggs with jean shorts in true Britney Spears fashion. Then after graduate school I thought I needed to look a certain way, cue my business casual era. Now I value the ability to move, clothes that will last a lifetime, and things that I genuinely enjoy putting on my body.
Favorite current trends?
I am really enjoying the return of Princess Diana fashion, specifically bike shorts with oversized sweaters and blazers.
Any trends that you think should stay in their respective era?
Low rise jeans can stay in their era. I was part of the generation where it was trendy to have a whale tale, aka your thong showing. I hated that.
What's a clothing purchase of yours that is worth the rave?
Every single body suit, or "onesies" as I refer to them. They can be dressed up or dressed down. It's a clothing time that feels like second skin and I am empowered with that sensation.
Any sentimental items you often sport?
I have several of my mom's blazers. She has Alzheimers and doesn't know me anymore, so wearing her blazers makes me feel like she is giving me a hug.
How does hair and/or makeup play into your get-ready routine?
I am obsessed with my hair. It is the indication of which mode I am in. If it is work or active, I need it managed. But if I am ready to kick back and be fun/flirtatious, then it is down and flowing. I like to keep my makeup simple.I actually have always identified as a tomboy. So I again want a great look that is approachable and functional.
Most surprising thing in your closet?
Nipple pasties! More people need these. For such a long time, as a larger-chested person, I was like 'I can't wear this' and 'I can't wear that.' But then at some point I was like you know what, I can. So I stick my little petals on and the days I do that end up being the days filled with the best memories.
Any items you just can't seem to part with?
Sweaters. I have so many. I say any clothing that gives you a hug is clothing you should keep.
Favorite cold weather items?
Any layering item – sweater, scarf, wool blazer, chunky socks, etc. I hate being cold so having items that can keep me toasty but visually interesting is key.
Fill in the blank: You know you live in Minnesota when _______ .
You not only think about the thickness of your coat but also the length. I finally bit the bullet and purchased a sleeping bag coat. Best decision ever.
Parting advice for others in the
Figure out your color palette and then only purchase clothing within that range. I just started this last year and man has it saved me money. Something might be cute but it just doesn't have the colors that will look good on me or cohesive within my collection so then I pass. Also don't hold onto things out of guilt that someone gave it to you or the idea that you might fit into it or use it for a specific occasion. If you don't love it, pass it on.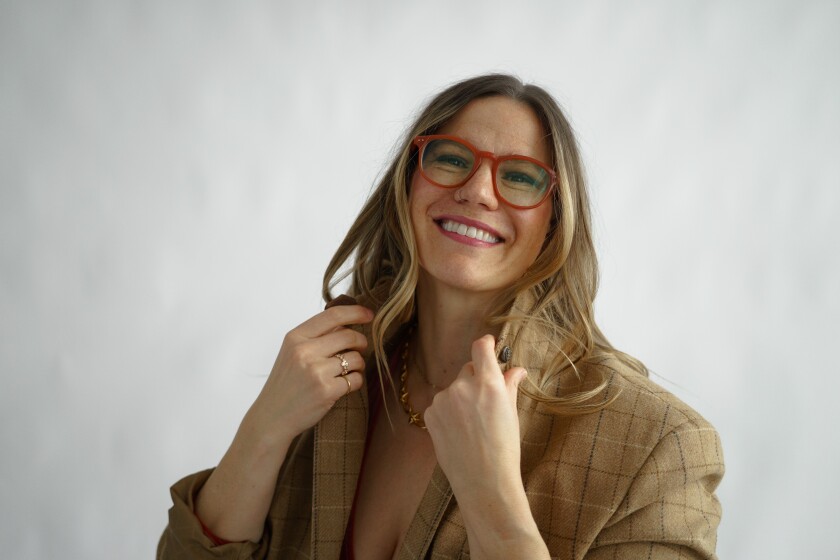 Do you know someone who has unique style? Send nominations to life@postbulletin.com with "Your Style" in the subject line.