Style informed by the globe
Joanne Rosener has collected her fashions among her many travels.
"Live life in full bloom" might well be Joanne Rosener's favorite saying. Retired from Mayo Clinic dietetics and human resources administration, Rosener describes herself as a "budding perennial, 70 years young."
Since retiring, Rosener said, she has flourished through involvement with the Rochester Risers Rotary Club, the Rochester Parks Foundation and the Rochester Area Pickleball Association among other organizations. In addition to playing pickleball here and elsewhere, she enjoys golfing, biking and hiking.
Rosener added that she and her husband Dick Rosener "share a love for travel and have been blessed to have traveled — and shopped — all over the world." Thereby, cultivating a life and a wardrobe rich in variety.
Please tell us about your style?
I don't know that I have one in particular.
Would you elaborate a bit?
Some of my most interesting and favorite pieces have come from the countries we've visited. … And in Rochester, my clothing choices depend on what the day may look like.
Is there one thing that says 'you' style-wise?
While not necessarily the best-dressed woman in Rochester, I might be the most colorful person in the room. I am not shy about wearing any color.
What are some of the wardrobe additions you acquired on your travels?
Skirts from a market in Hamburg, Germany; a linen sweater and a hat from Russia; a hand-crafted leather purse from Chianti; a summer batik dress from Dominica; and scarves from Italy, where you can't buy just one. In Oamaru, New Zealand, celebrating Dick's 70th birthday in 2019, I got designer jeans. And this past March in Egypt, I found a dress of Egyptian cotton, white with blue trim. I don't know when I'll wear it, but it was a good buy, is beautiful and makes me feel special.
Do you have jewelry from your travels?
Yes. I love my cat's eye and ruby star sapphire rings from India and a gold bracelet from Jordan as well as earrings from many places that take up little space in luggage when returning home.
You have said your husband has always given you fine jewelry?
Yes, he is such a traditionalist and has given me pieces for our anniversaries and other occasions. And whether I have liked them all or not, I have loved every one. Lately, I have been transitioning to an artsy style too, but I love all of my jewelry from Dick.
What do you wear on a daily basis?
Now that I'm retired, my attire is, well, more casual most of the time. In summer, I wear sports skirts and casual dresses. I play a lot of pickleball and on the court, it's either shorts or skirts. In the cooler months, rarely a day goes by when I'm not wearing leggings. I wear leggings almost exclusively then. And I might add a tunic from HERS downtown.
When shopping, do you focus on quantity or quality?
It's always been quality. Although I do not always like the price that goes along with that. My friends are envious of the "bargains" I often find. I have a long history of looking for quality at less than full price. When I still lived in Michigan where I grew up, I once went shopping and found a bargain that I still have. It is a cream with blue knit dress that was 75% off.
Would you tell us about eyewear?
I have a collection of eyeglasses and choose them to complement my outfit.
And then about hair color and style as well as makeup?
COVID and a year of self-isolation left its impact on my hair color. I no longer highlight. And I infrequently have a professional cut. I can trim at home. At the same time, I've scaled back make-up to just a few key items. I never leave home — intentionally — without lipstick.
Does your husband have style suggestions for you?
He may have a suggestion when I ask him for an opinion, but otherwise he's just always complementary.
Parting suggestions for readers?
Be comfortable. Be yourself. Be bold. Life's short. Live it up.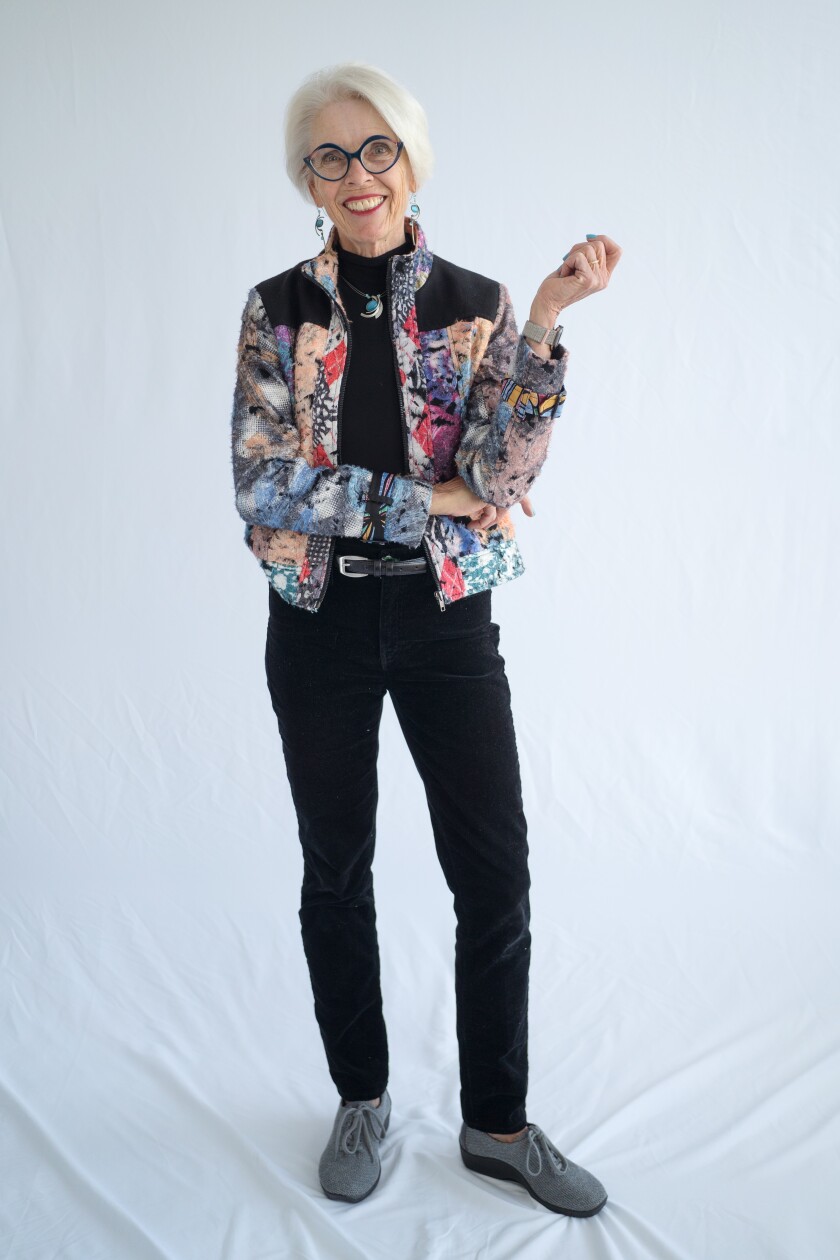 Do you know someone who has unique style? Send nominations to life@postbulletin.com with "Your Style" in the subject line.