First day back: Elementary students head to class in Rochester
Hybrid model for younger grades mixes in-school classes with online learning.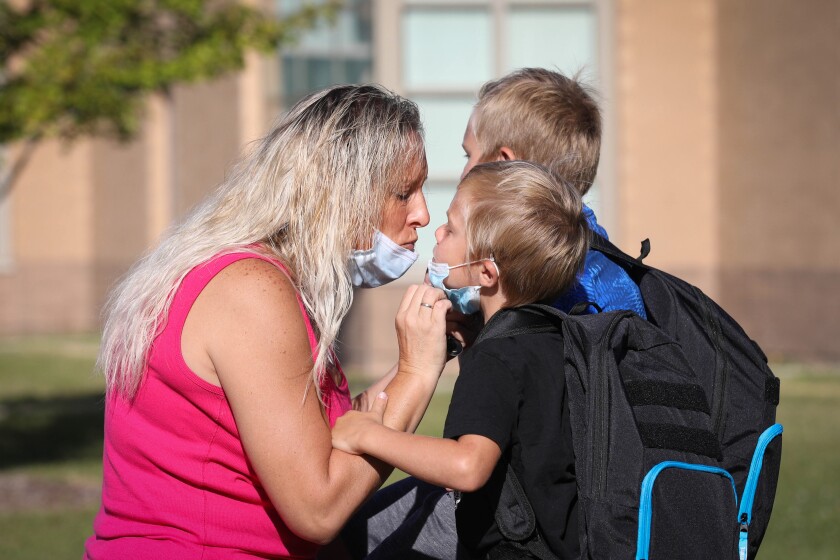 Moments before her boys walked inside for their first day of class at Gibbs Elementary School, Andrea Burdick pulled her son's mask down to give him a kiss goodbye.
The Burdick family was just one of dozens taking pictures, sharing hugs and saying goodbye on Wednesday morning as students started the school year. While secondary students in Rochester are still using the distance learning model, elementary students are able to go to class on a part-time basis under a hybrid model.
"Really, we're trying to replicate a regular school year," George Gibbs Elementary Principal Mark Randall said. "It's just going to look different, but it's the same curriculum; it's the same content we're going to be teaching. The delivery is just going to look a little different."
At Gibbs, about 300 students will be at the school part of the time, and another 300 will be there the other days. When they aren't at school, students will be learning online. Roughly 200 students at the school have opted for full-time distance learning.
Some students arived Wednesday by bus; some rode with their parents; one student roared up to the school on the back of a motorcycle with his backpack strapped down to the rack behind him.
Unlike any previous year, students were sporting face masks as a precaution against COVID-19. Elise Olsen was walking into first grade with a white face mask decorated with pink flowers. Her brother, Charlie, said their grandmother made their masks for them.
For their first-day pictures, some of the masks were up. Others took them off for the camera.
In spite of the mask requirement and that students can only be in the classroom part of the time, Charlie Burdick was excited to start his kindergarten year. As the youngest of four, he'd been waiting for his turn for a while.
"(He) can't hardly wait to go to school," said his mom, Andrea.
1
/
2:
Andrea Kordaris-Corkill comforts her 3rd-grade son Jack with some last-minute emotions as they say good-bye at the front door at Gibbs Elementary School Wednesday morning. Children arrive at George Gibbs Elementary School for the first day of class Wednesday, September 2, 2020. Less than half of the student body attends on alternating days and all students and faculty wear masks as precautions against the spread of COVID-19. (Ken Klotzbach / kklotzbach@postbulletin.com)
2
/
2:
Children arrive at George Gibbs Elementary School for the first day of class Wednesday, September 2, 2020. Less than half of the student body attends on alternating days and all students and faculty wear masks as precautions against the spread of COVID-19. (Ken Klotzbach / kklotzbach@postbulletin.com)