Local businesses, people thriving at the Grumpy Old Men Festival in Wabasha
Downtown Wabasha was filled with buffalo plaid-wearing festival attendees Saturday, Feb. 25.
WABASHA, Minn. — If you weren't wearing buffalo plaid in downtown Wabasha on Saturday, Feb. 25, you stuck out like a sore thumb.
The 2,500-person town seemed to double in size during the 30th annual Grumpy Old Men Festival, which honors the 1993 movie starring Jack Lemmon and Walter Matthau, who attended the festival in its early years.
"We sold out of all of our hotels, VRBOs and Airbnbs within a 50 mile radius," said Abby Oxendine, the Wabasha Kellogg Chamber of Commerce president.
The 30th edition added new elements to the festival, like a free s'mores station with the River Boat Day Queens, a beer tent with an ice bar inside, outdoor live music and ice camping. Hastings native Mark Steven Johnson, who wrote the screenplays for "Grumpy Old Men" and "Grumpier Old Men," the 1995 sequel, was in town for a Friday night benefit dinner and fireside chat.
And the always-popular staple events were still going Saturday: Grumpy Plunge, bingo, the hot dish luncheon, ice fishing and the Ragetti's Spaghetti Feed at Herb+Arrow, among others.
Downtown Wabasha was bustling, and the long wait and line out the door at Herb+Arrow was just one example. There wasn't a business along Main Street without a crowd inside, fitting the prediction Oxendine, a Wabasha native, made Friday: "This will probably be our biggest year yet," she said.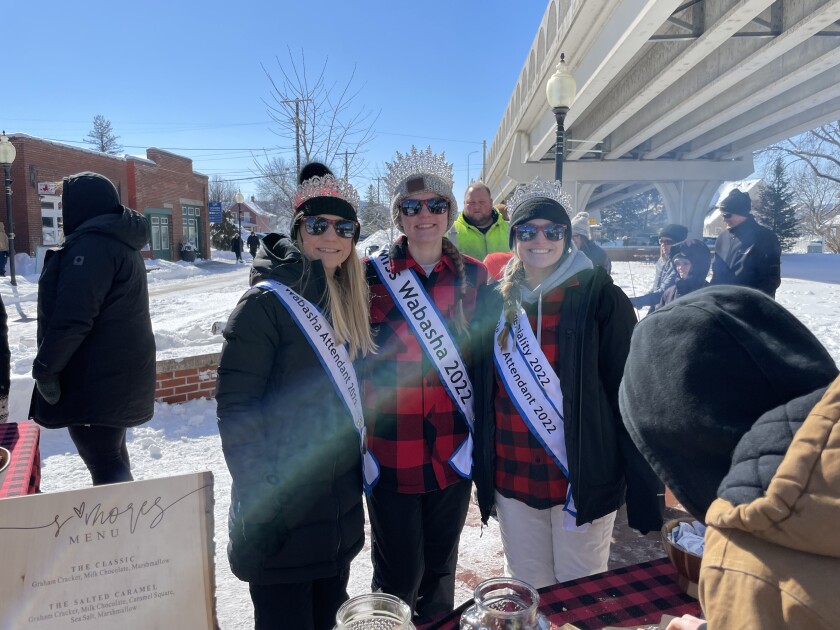 The draw of the festival is to celebrate an iconic film based on Wabasha and its residents, and created by many with ties to the town. But the festival also brings people to a town with local businesses that need a boost after a long winter.
"It's hard in the winter for our businesses to thrive and to stay going," Oxendine said. "We really work hard to get all of our local businesses involved in some way. They're all hosting something throughout the weekend, and it's just really fun. We have so much community support, and people just love to be here."
There's no doubt that businesses throughout Wabasha got a boost from the festival this last weekend of February. It's fair to say festival attendees did, too.
"Everybody just kind of gets in that winter slump, and this is just something to really look forward to," Oxendine said. "It's like, how many towns have this big of an outdoor celebration in the middle of winter?"