USS Minneapolis-Saint Paul arrives in Duluth
The U.S. Navy is scheduled to commission the ship on Saturday.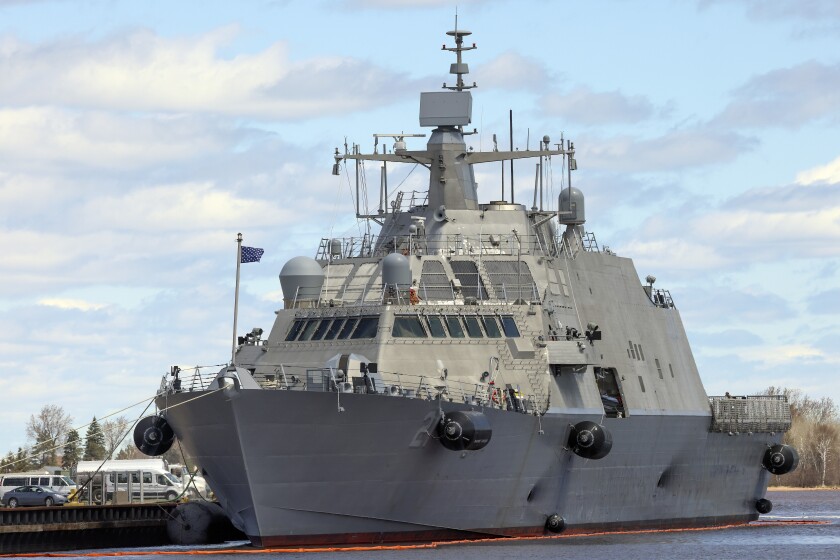 We are part of The Trust Project.
DULUTH — A naval ship to be commissioned by the U.S. Navy arrived in the port Monday morning.
The USS Minneapolis-Saint Paul is scheduled for commissioning at 10 a.m. Saturday before it is moved to its homeport of Naval Station Mayport, Florida, where it will have a crew of 140 sailors, the News Tribune first reported in 2020.
Built by Lockheed Martin and Fincantieri Marinette Marine in Marinette, Wisconsin, the Freedom-class littoral combat ship was launched and christened June 15, 2019.
The USS Minneapolis St. Paul will arrive in Minnesota nearly two years after its christening.
Littoral combat ships are "a fast, agile, mission-focused platform designed to operate in near-shore environments, winning against 21st-century coastal threats," according to a press release from the Naval Surface Force, U.S. Pacific Fleet.
The USS Minneapolis St. Paul was expected to become the first anti-submarine warfare littoral combat ship in the U.S. naval fleet. It is designed for speed and shallow-water, near-shore combat.
The Navy League described anti-submarine warfare as a "branch of underwater warfare that uses surface warships, aircraft or other submarines to find, track and deter, damage or destroy enemy submarines."