What's in a name? A look at the history behind school names in Rochester
Rochester's school names run the gamut from honoring presidents to school board members, to the area of town in which they are located.
Before long, Rochester Public Schools will begin putting pen to paper to come up with a list of possible names for the two schools it is building.
One of those schools will be an elementary school in the Schmidt Park area in northwest Rochester. Construction started in early August and is expected to be completed in almost exactly a year.
The second school will be a middle school off of 65th Street in northwest Rochester. Construction is expected to begin in early October and continue through mid-summer of 2022.
Rochester School Board member Mark Schleusner recently told the Post Bulletin that the naming process for the new elementary school will likely happen soon in order to begin ordering signs and other material bearing the school's name.
Rochester's school names run the gamut from honoring presidents to school board members, to the area of town in which they are located.
Here's a look at the history behind the existing school names in the district.
RELATED:
For many teachers, it will be like the 1st day of their careers 'Everything is going to be different.'

Photos: NW elementary school groundbreaking event Local education, business, and construction leaders participate in a groundbreaking ceremony for a new elementary school being built along Overland Drive Northwest on Thursday morning.

RPS begins construction on new northwest elementary school

Mayo doctor: Kids do well when they have a role Mayo pediatrician offers tips for children heading back to school.

Bamber Valley— This school originally was part of the Bamber Valley school district, named for John Bamber, who in 1854 settled in section 10 of Rochester Township, in the area now called Merrihills. He deeded the land for a school to the county for $1. Bamber died in 1904 at age 89 and is buried in Oakwood Cemetery.
Churchill— Named for Winston Churchill, the inspirational prime minister of the United Kingdom during most of World War II. The only Rochester school named for a foreign citizen.
Elton Hills— One of a handful of schools opened in the early 1960s as the baby boom and the arrival of IBM swelled Rochester's school-age population. Located in the Elton Hills area of the city.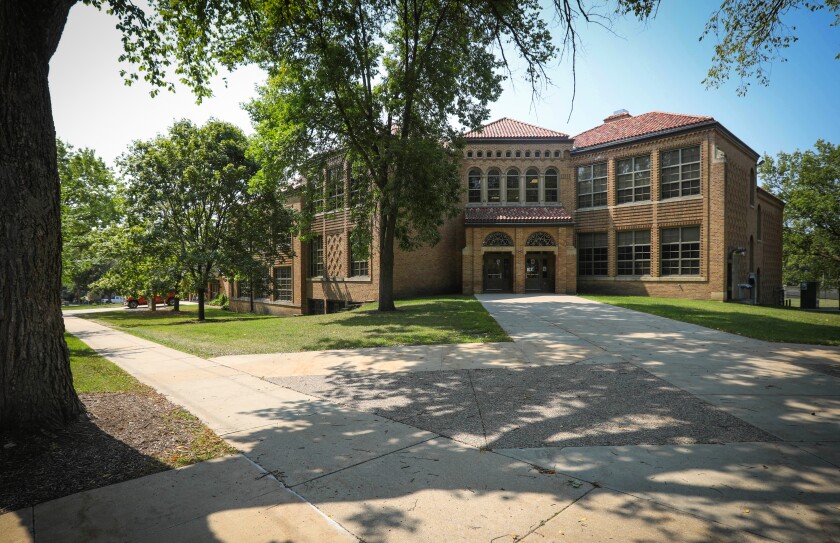 Folwell— William Watts Folwell was the first president of the University of Minnesota, appointed to that post in 1869 when he was 36. He had served in the Civil War with a regiment from his home state of New York. He resigned the presidency of the U in 1884, but remained on the faculty as a political science professor and librarian. He was co-founder of the university's eugenics society, a philosophy initially regarded as a way to improve the quality of the human race. It later was adopted by the Nazis, nativists and nationalists as justification for their racist attitudes and actions.
Franklin— Benjamin Franklin's first job was as a printer, which made him a rich man. His experiments with electricity made him world-famous. Later in life, he often was called "Doctor Franklin" — it was an honorary title. As an American representative in Paris, Franklin, then in his 70s, had a reputation for flirting with the pretty women of French high society.
Gage— Robert Gage was president of the school board in 1958. This was just after IBM came to Rochester and at a time when several new schools needed to be built.
George Gibbs— Gibbs was the first African-American to go to Antarctica, when he accompanied Adm. Richard Byrd's expedition in 1941. Twenty-five years later, after having settled in Rochester, Gibbs helped organize the Rochester chapter of the NAACP. He died at age 84 in 2000.
Harriet Bishop— Named for Harriet Bishop, Minnesota's first school teacher, who also gave her name to Harriet Island in St. Paul. Bishop came to Minnesota in 1847 from Vermont.
Hoover— Herbert Hoover, from West Branch, Iowa, was the first president born west of the Mississippi River. He was a Quaker who organized efforts to feed starving Europe during and after World War I. When he arranged to feed people in Bolshevik areas of Russia, he was criticized by fellow Republicans. But, Hoover said, "Twenty million people are starving. Whatever their politics, they shall be fed." His term as president, which encompassed the Crash of 1929, was less than successful.
Jefferson— "American Sphinx" is what one of his biographers called Thomas Jefferson, the third president of the United States. He was a man of immense gifts riddled with contradictions. He read in six languages and donated his personal library of 6,500 books to found the Library of Congress. His Jefferson Bible was considered heretical, and that, coupled with his interest in Hinduism and Islam, helped earn Jefferson the title of "infidel" among his enemies. When it comes to Broadway musicals, he fared better in "1776" than in "Hamilton."
Lincoln— Located in what formerly was Horace Mann School. As head of the Massachusetts board of education, Mann advocated for public schools, free of sectarian education, and is considered the father of American public education. Abraham Lincoln, of course, is consistently rated as the greatest of American presidents.
Longfellow— One of New Englander Henry Wadsworth Longfellow's best-known poems is "The Song of Hiawatha," which takes place in Minnesota. What is less widely known is that during the Civil War, Longfellow wrote what later became the lyrics of the mournful Christmas hymn, "I Heard the Bells on Christmas Day": "'There is no peace on earth,' I said, 'For hate is strong, and mocks the song, of peace on earth, good-will to men.'"
Pinewood— This school, which served a district organized in 1856, first was located in a log cabin about a half-mile east of today's school. That cabin was moved to the grounds of the present site by a team of oxen. When the one-room school burned in 1948, it was replaced by a new building known as "the Little Red Schoolhouse." In 1957, the name was changed to Pinewood School.
Riverside Central— A new school building that replaced the closed Holmes and Hawthorne schools. It is located near a river (Bear Creek), and Central was added to commemorate the former Central Junior High in downtown Rochester.
Sunset Terrace— This school, located in the Sunset Terrace addition, was built in 1960 and had the same floor plan as Elton Hills and Harriet Bishop, which also opened at that time.
Washington— The Father of His Country, whose greatest contribution might have been that he renounced a lifetime presidency and left office after two terms. On the other hand, George Washington, a slave owner, never spoke out against slavery, helping ensure the peculiar institution would haunt his country for the next 250 years. On a lighter note, there is no evidence he ever chopped down a cherry tree.
Friedell— Originally a Boutelle's furniture store, the building apparently gained the name Friedell when it was a University of Minnesota and Minnesota Extension Service facility. When it became a Rochester middle school in the 1990s, the name wasn't changed, perhaps because school officials expected Friedell to be a temporary solution to overcrowding in the city's middle schools.
John Adams— The second president of the U.S., Adams was a brilliant, proud and irascible character. He served with Jefferson on the committee to write the Declaration of Independence. The two men later had a famous falling out, then began a respectful correspondence in old age. When Adams died on July 4, 1826, his last words were "Jefferson lives." Actually, Jefferson died the same day.
Kellogg— Frank B. Kellogg, who was Rochester city attorney and Olmsted County attorney in the 1880s, received the Nobel Peace Prize in 1929 for co-authoring the Kellogg-Briand Pact, a resolution to outlaw war.
Willow Creek— Despite an energetic campaign to name this new school for Belva Snodgrass when it opened in 1982, the school board opted for a geographic moniker. Snodgrass was a beloved principal of Central Junior High (which Willow Creek replaced) in the 1940s.
Century— One of the more memorable controversies regarding the naming of a school swirled around this third public high school in the city. A committee tasked with making a recommendation sent Eleanor Roosevelt High School to the school board. An outcry from some powerful quarters over Roosevelt's liberal reputation sent the school board searching for a less divisive option. Nobody could argue with Century, which opened just before the end of the millennium.
John Marshall— Marshall, the chief justice of the U.S. Supreme Court for 34 years, has no known connection to Minnesota. Original plans were to build the school at Soldiers Field. But a northwest Rochester location offered more room; good thing, too, because shortly after it opened in 1958, overcrowded John Marshall already was a candidate for expansion.
Mayo— When students who would be attending the city's second high school, scheduled to open in 1966, were surveyed for a preferred name, they came back with John F. Kennedy High School. The school board, after hearing from community leaders who said there already were "excessive memorials" to Kennedy in town, opted to add the Mayo name to yet another Rochester edifice. Meanwhile, the search still is on for those many local Kennedy memorials.