Pro-life event at RCTC evacuated due to suspicious item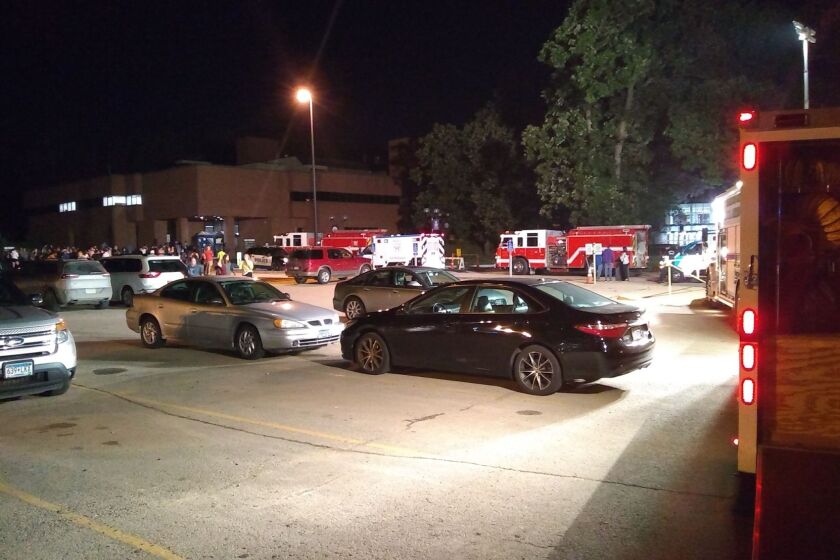 We are part of The Trust Project.
A Rochester man was arrested after police say he set off a stink bomb during a pro-life event at Rochester Community and Technical College's Hill Theatre Wednesday night.
Samuel VanderWiel, 19, is charged in Olmsted County District Court with gross misdemeanor harassment, misdemeanor fifth-degree assault and disorderly conduct. He made his first court appearance Friday morning after being held in the Olmsted County Adult Detention Center since his arrest Wednesday night. His next court appearance is scheduled for Oct. 2.
The Rochester Fire and Police departments and RCTC security and building management were called around 7:50 p.m. to the theater for a report of a suspicious container with liquid inside left inside an occupied theater, according to the Rochester Fire Department.
About 50 people had evacuated the theater and were waiting outside of the building when emergency crews arrived. Firefighters evaluated those on scene for possible medical issues from exposure to the unidentified liquid or fumes. VanderWiel was detained by campus security until police arrived.
Police believe VanderWiel made the stink bomb in a water bottle and left it in the auditorium. Three people suffered headaches and chest irritation as a result. None were transported by ambulance, according to the fire department.
Rochester Police Capt. Casey Moilanen said witnesses reported that VanderWiel was acting suspiciously and nervously as he left the bottle in the theater. A short time later, a noxious smell filled the air.
VanderWiel is believed to have acted on his own but allegedly tried to get other people to protest the event. He reportedly had also planned on throwing eggs at a display but didn't, according to Moilanen. A 40 Days for Life event was being held there. "40 Days for Life is an internationally coordinated 40-day campaign that aims to end abortion locally through prayer and fasting, community outreach, and a peaceful all-day vigil in front of abortion businesses," according to the organization.
In a statement sent to the Post Bulletin, the organization said it will remain steadfast and determined in its mission to peacefully save lives and end abortion.
Responders with handheld monitors received a slight reading of ammonia from the bottle. Moilanen said the bottle had ammonia and another chemical in it, making sulfide gas, causing a rotten egg smell.
The department's Chemical Assessment Team was called to do further monitoring but found no additional hazards. As a precaution, crews also searched several classrooms in the vicinity of the theater. Nothing else was found.
Following the search, people were allowed back in the theater.
While a stink bomb may not seem serious to some, Moilanen said the reaction it caused terrorized the people in the theater.
"Just look at the things that are going on across the country, across the world as far as terrorism is concerned. People in that theater had no idea what was going on," he said. "They didn't know what was going to come next. All they know is that there is some sort of gas, a rotten egg smell that is taking place, a suspicious person suddenly gets up and leaves. They don't know what is happening next."
Moilanen said the response of those in attendance was a perfect example of "see something, say something."
"People just have to be aware of their surroundings and they have to report suspicious behavior. This was a great example of that happening. I think the people there handled it very well. The security guard handled it very well," Moilanen. "This is the way it should happen. If people see something suspicious, they need to contact us and contact security. It may be nothing but it may be a whole lot worse, too."