Other View: Kevin McCarthy limps over the finish line to a job that he weakened
McCarthy had to give away so much to survive that he can now be toppled by a vote requested by a single member.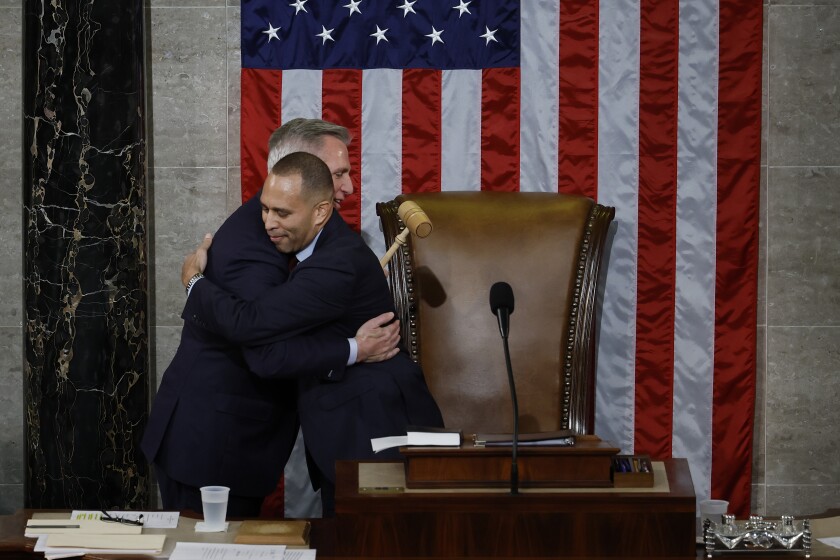 We are part of The Trust Project.
The only good thing about Kevin McCarthy scheduling his supposedly triumphant 14th House roll call vote that would finally make him speaker for 10 p.m. Friday, is that it wasn't a school night. McCarthy, of course, lost that 14th vote and 15th-round balloting went well past midnight. When McCarthy said, "Tonight, I want to talk directly to the American people," it was 1:17 a.m. Saturday and America was asleep, just like when George McGovern's 1972 Democratic nomination acceptance speech began at 2:48 a.m.
It was a pathetic display, not of democracy, but of factionalism, as James Madison warned about in Federalist No. 10. McCarthy had to bend, twist, beg and threaten to get a handful of Republican rebels to support him, but they never did. His victory, at 12:29 a.m., only came when the final member in the alphabetical roll call, Ryan Zinke, announced for McCarthy. And he still failed to garner the minimum 218 votes needed for a majority. The most he could muster was 216, so a handful of rebels skipped the vote or voted "present" to lower the threshold and let everyone go home.
It was fitting that Jan. 6 voting bled into Jan. 7, exactly what happened on Jan. 6, 2021, when Republicans rejected the 2020 election results.
There's winning ugly and winning by hook or by crook. And then there's winning but actually losing. McCarthy had to give away so much to survive that he can now be toppled by a vote requested by a single member. The shortest tenure for any House leader is held by speaker for a day New Yorker Theodore Pomeroy in 1869. If McCarthy hangs on until the House resumes Monday at 5 p.m., he will have bested Pomeroy.
The man who would be the next speaker from New York, Hakeem Jeffries, had a much better week, beating McCarthy on the first 11 roll calls. Getting the most votes 11 times is impressive, as the longest-serving speaker, Sam Rayburn, was only elected 10 times. And Jeffries didn't have a single Democrat, ranging from AOC on the left to Texan Henry Cuellar on the right, defect.
©2023 New York Daily News
Distributed by Tribune Content Agency, LLC.