'Rochester stands together': Insider stories from 500 days that changed Rochester business
We asked local business people what they've learned over the last 17 months. What they've learned, it turns out, is a lifetime of lessons.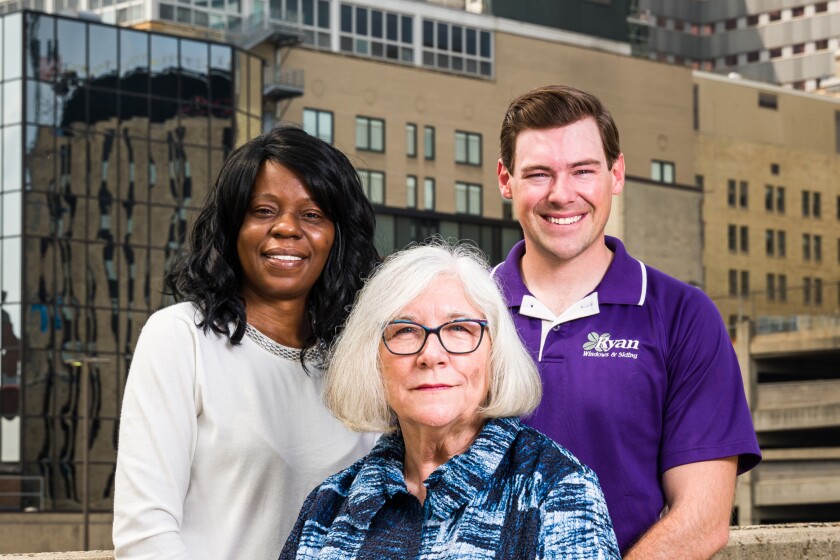 We are part of The Trust Project.
'We are able to overcome the greatest of obstacles'
Kristopher Derwin Loving, Sr., Founder & CEO, Loving Touch Productions LLC
"I learned the importance of building relationships and trust with people. This helped us overcome the challenges of the COVID-19 pandemic and still do business effectively. Our clients, partners, and other collaborators were comfortable and confident enough to work with us even with restrictions and obstacles.
We were honored to serve a young woman that was misdiagnosed and had to fight a harder fight against breast cancer. Her experience led her to start a non-profit organization preventing this for others. We recorded and produced several videos telling her story and promoting the organization. This project could literally help save lives.
I have learned that we as people are very resilient, creative and flexible. We are able to overcome the greatest of obstacles. There are some things that unite us even among countless differences."
'I learned ... the sense of community and support'
Kristina Kovacevic, Branch Manager, Altra Federal Credit Union
"One thing I learned from this experience is the sense of community and support. Even though we couldn't be together we were still able to communicate in different ways with friends, family, and our members.
When all Altra Federal Credit Unions shut their doors in Minnesota, it was difficult for my branch to help members because we don't have a drive thru. One of my staff members volunteered to help in a different department and was a top performer. She was a team player the entire time and was willing to help whenever it was needed. She is truly an asset.
... Something positive I have learned from my staff is how resilient they have been with the consistent changes that come our way."
'People need to get back to realizing that it is really OK to have differing opinions and still be friends'
Brad Becker, President and CEO, ONB Bank
"We got confirmation that people are resilient and team players. Our management team continued to convey to our team that we are all in this together and making the best decisions possible with the ever-changing information that was/is out there. Being an essential business that was required to stay open all through the pandemic, we all needed to be flexible and understanding of not only our co-workers and customers, but various vendors who were figuring out new ways of doing business. ...
Among many other areas of helping customers, community banks really shined in providing PPP loans. We helped not only our existing customers, but many other businesses that were unable to get help from their existing banks. All total, ONB provided help to nearly 400 PPP Loans totaling $24 million. These funds kept businesses open, people employed, and ultimately helped the Rochester and Stewartville communities that we serve.
Given the current divisive nature of so much of the conversation we are facing on a constant basis through social media, etc., people need to get back to realizing that it is really OK to have differing opinions and still be friends, close as a family, customers, etc. No one is right 100% of the time, so just perhaps being open-minded with other individuals will help us all in the long run."
'We learned to appreciate the benefits of a more balanced lifestyle'
Kristin Welch, Co-owner, Tyrol Ski & Sports
"It certainly has been a challenging year to run a business.
This was Tyrol's 55th year in operation, and we've never seen anything like it! As challenging as it was, there certainly were some positives and valuable lessons learned.
We learned that in times like a pandemic, government organizations like the CDC can be very helpful for guiding appropriate actions. We gained a greater appreciation for our local Chamber of Commerce, as they provided great support and information specific to the Rochester small business community.
The Tyrol staff were adaptable and innovative when it came to servicing our customers in the best and safest way possible. Some of our employees took on the task of regularly sanitizing surfaces, while another helped to design and install a plexiglass shield and fans for our dressing rooms.
A significant adaptation that the store made involved changing our shipping and receiving space into a winter rental equipment area. That allowed customers and staff more space to social distance in our ski department. As a team, the entire Tyrol staff stepped up, embraced the COVID safety protocols, and serviced our customers through a unique time period!
It was so amazing to see the renewed interest in winter outdoor recreation such as snowshoeing, cross country skiing, and downhill skiing. We really enjoyed helping families get geared up to enjoy some time outside together.
As owners of a retail business, we learned that we can decrease our store hours slightly and still effectively provide quality products and service. It was nice to slow down a bit and we learned to appreciate the benefits of a more balanced lifestyle. In the end, it gave us a little more time to do the things we love—ski, snowboard, kayak, hike, camp, etc.!"
'We wouldn't have made it through all this without a great staff who was willing to adapt'
Rene Nordhus (with Steve Nordhus), Owners, ABC & Toy Zone
"We, like many, had to adapt.
My staff that came back after we closed for a while was and has been awesome! We couldn't have made it through all of this without them.
Curbside pickup was helpful and a great idea. Custom Easter baskets were a huge hit, and staff stepped up and worked very hard to hand-pick hundreds of baskets. Staff worked hard making the store clean and safe.
My daughter worked hard to get our website up and running. It still needs some work, but it got our name out there.
Our biggest effort was getting more out on social media, all types, and now TikTok (thank goodness for young staff). Also, our Shipping Department has grown tremendously. All staff has learned how to pack and ship, which has become an even bigger part of our business. Without adapting to this, I am not sure we would still have a retail storefront.
Some of our vendors have really stepped up to help, too. Our biggest news is we are a GOLD Lego store, which means we now can carry the hard-to-find Legos in store.
We wouldn't have made it through all this without a great staff who was willing to adapt to whatever needed to be done, even when one day we were doing this, and then the next day we were doing that."
'Human beings are so resilient, so capable of evolving, and so adaptable to change'
Nita Khosla, Realtor, Edina Realty
"Some of the lessons we learned in these hard times we will most likely carry over going forward even post-COVID.
It's really so amazing that the people in the real estate industry and also the clients and customers adapted so quickly to the social distancing and working remotely and we conducted real estate business almost without missing a beat.
Amidst so much suffering due to COVID since March 2020, at least we were able to assist people who had to buy or sell homes in this period and bring them the joy of owning a new home.
Human beings are so resilient, so capable of evolving and so adaptable to change … these have proved not to be just cliches."
'You cannot let fear of the future paralyze the present–make the most of each moment'
Austin Ryan, Ryan Windows & Siding
"I did a deep dive in the thesaurus trying to find a word to encompass all that we had withstood together as a company and community—Enduring, Adaptable, Steadfast, Benevolent. I could not pinpoint one exact word, but I think they are all characteristics of a family (and that is what we are).
Every day has been a story of compassion and fortitude. Our team has come to work each and every day to help homeowners feel safe and secure within their homes.
Last year we had the privilege to partner with Two Rivers Habitat for Humanity and ABC Supply in Oronoco to donate a new roof to a local veteran in need. Thanks to the compassion of programs like Habitat for Humanity, led by Kevin Worden, and the generosity of businesses like ABC Supply, led by Jace Dilley, we are able to make a difference in this community and truly change lives. Ryan Windows & Siding was honored to be a part of this team and provide the installation, labor, and expertise.
You cannot let fear of the future paralyze the present–make the most of each moment."
'There are too many positive stories to count'
Chris Blade, Publisher, Rochester Post Bulletin
"Thanks, in part, to the investments Forum Communications made in upgrading our technology and equipment when they acquired the PB in June 2019, our team was able to immediately pivot to a work-from-home environment. Like many businesses, we had to quickly change our business model in response to the physical and financial impact of COVID-19 in our community. We dedicated resources to keeping the community informed about the spread of the virus and opened that information to everyone, no subscription required.
Our team followed the recommendations of the CDC in keeping ourselves and the public safe while reporting the news, but did not let the pandemic stop us from keeping the community safe and informed. There are too many positive stories to count, many of them recorded in print and online by journalists from the Post Bulletin and Rochester Magazine. There were stories of neighbors helping neighbors, drive-by parades for graduations and birthdays, salutes to frontline workers and first responders, and campaigns to encourage shopping local to keep businesses afloat.
I've learned that time with family is most important and we need to slow down and make time to spend together while we have the opportunity."
'No matter what, everyone wanted to see that we all made it through the year in good health and good spirits'
Tawonda Burks, Business Success Strategist (Owner), ELOCINA
"Over the past year I have learned the importance of automation for my business. With the pandemic hitting us all, I had an increase in individuals wanting to start their own business and take entrepreneurship courses. Prior to the pandemic, I taught courses face-to-face, so this forced me to implement my learning management systems and meet the needs of my clients by offering online learning 24/7 and, on some occasions, live webinars. I had to automate systems to keep up with the demand. Most importantly, this year has taught me to navigate in ways to meet the needs of my clients.
The community for which I mainly serve are African Americans. I had several individuals come to me wanting to start a business but lacked funding. However, a small community of individuals stepped in to support and help finance start-up costs. I also consulted, provided education, and invested in their entrepreneurial journey.
The African American community was impacted in several ways that many only thought was about access to vaccines, personal finances, and business grants. However, the community struggled with child care, elderly care, spiritual/emotional care, and a host of other things. There were times when I was working from home, running a business, studying, and also lending a helping hand to care for friends, family, and clients' children while they worked. I also had customers that ordered products from me and paid double the price to help the aspiring entrepreneurs that I help.
The one positive thing I have learned from this experience is that no matter what, everyone wanted to see that we all made it through the year in good health and good spirits.
Rochester is a great community with great individuals. We have certainly come a long way but we also have a way to go! I do believe we will get there with supporting small businesses better as well as minority owned businesses. If not, it is the goal of ELOCINA to ensure this happens."
'The changes in our way of working and how we live has inspired us'
From Tory Johnson, Rochester Senior Location Executive, IBM
"Working in tech every day, it's easy to take it for granted.
But when IBM sent everyone home in mid-March 2020, I was even more grateful for the tech we had available to us as the transition from the office to home seemed fairly seamless for most IBMers.
I really wasn't surprised by the team's flexibility and how quickly they adapted to working from home. I give the IBM Rochester team a lot of credit because they never missed a beat. They rallied together to make the best of an unbelievable situation, and during some of the darkest days of the pandemic, they continued to show up not only for each other, but for our company, clients, and partners, and most importantly, their families.
While COVID-19 changed where Rochester IBMers worked from, it really didn't slow down progress. One story that comes to mind is in the early months of working from home, the IBM Rochester team that had worked on the Summit and Sierra supercomputers put their expertise to good use by providing tech support to help find a solution to stopping COVID-19. They knew they needed to keep those supercomputers running smoothly as they became an important part of the work a consortium of partners was doing to mitigate the pandemic globally.
Despite the pandemic, Minnesota IBMers never stopped giving of their time, talents, and monetary gifts, pledging more than $1.2 million during IBM's annual employee charitable contribution campaign, and volunteering nearly 32,000 hours which generated thousands of dollars in IBM grants that were given to area non-profits. Our employees packed food boxes, sewed and distributed face masks, 3D-printed ear savers, and used their skills to help students and seniors navigate going virtual.
What we've learned from our experiences throughout the pandemic has most likely taught me that what we once considered 'normal' no longer exists. The COVID-19 pandemic gave us permission to break from daily routines and traditions and forced us to try something new. We may not have liked it at the time, but the changes in our way of working and how we live has inspired many IBMers to use their time and talents in ways they may have never considered."
'Respect and patience are of the utmost importance'
Dusty Guerton, Branch Manager, Altra Federal Credit Union
"Respect and patience are of the utmost importance to our members and staff members. When someone has a request, stop what you're doing and give them your full attention. What seems small to you, may be a big deal to the person bringing up their conversation.
Many businesses have struggled through the pandemic. Through PPP, Altra was able to provide funds to businesses that were in need of some assistance. Multiple business members came in after receiving their PPP funds with an abundance of gratitude for the help. It feels terrific to help our members when they're in need.
People remained empathetic and kind through a very stressful time. Altra has terrific members and fantastic employees. I'm grateful for our members' and employees' understanding of different protocols and procedures that were implemented during the pandemic. Members entered our offices with positive attitudes and employees arrived at work each day ready to assist them with their needs. Everyone took the 'new normal' with a grain of salt and showed great amounts of respect difficult times."
'Rochester StickS together'
Laura Elwood, Owner and President, Chamberlain Concierge and Rochester Trolley & Tour Company
Rochester sticks together. As difficult as 2020 was, the beauty of this industry is that we have the privilege of catering to visiting guests and our local community. The pandemic certainly altered the way our society functions, but our team continues to recalibrate regularly so we can be here when our clients need us.
Many fellow businesses have done the same, and the way we continue to rally together to keep moving forward is a true testament to our supportive community.
Our guests and our team have adorned many extra hats and experienced many emotions over the last 500 days. Our guests were patient and understanding, and our drivers were ready to adapt and never afraid of what the next day would bring.
We had a number of guests who traveled in for necessary medical appointments. To prepare, our team took it upon themselves to understand current COVID-19 measures in place for each location in Rochester. As guests asked questions, this knowledge helped set minds at ease and helped guests navigate the city when that task was seemingly impossible at times. Circling back to my point about sticking together—the number of stories with this common thread are too many to count, but they will always be with me. Together, we can accomplish anything."
'We learned that we were not alone – in the industry or in the community.'
Susan Mackert, Executive Director, PossAbilities of Southern Minnesota
"We learned that the pandemic could serve as a vaccination for the agency, injecting changed practices and innovative solutions to address the long-term impact of COVID-19. It gave us the needed impetus to address and strengthen operational efficiencies and to change the delivery system of programs in order to fulfill our mission.
It is true that in a crisis situation, you discover gems. We were moved and touched by the immediate outpouring of support for furloughed employees. One of the most unusual gifts was that of a butchered pig from a donor who had keen sensitivity for the ability of furloughed employees to purchase food. A local veterinarian who raises chickens has continued to supply employees with dozens of fresh farm eggs, weekly.
Our most successful annual campaign came during the pandemic. People opened their hearts and wallets to make certain we could sustain operational costs in absence of revenue, due to the temporary suspension of programs.
I have learned the impact of unconditional commitment. Employees shifted roles and responsibilities in order to create the most effective operational team to guide PossAbilities through the pandemic with stability and viability to meet the mission of serving people with disabilities.
Another valuable lesson we learned is that we were not alone—in the industry or in the community. Many organizations were suffering losses throughout the pandemic. We joined forces to listen to each other, share stories, and foster unity during a very challenging situation.
In June, I led our first All-Employee meeting since the start of the pandemic. The theme was Sands of Time. It's time to move forward."
'When one of our fellow colleagues was struggling or having a bad day, we stepped up'
Nicole L. Czarnomski, Marketing Director, Shorewood Senior Campus
"When one of our fellow colleagues was struggling or having a bad day, we stepped up. We made people laugh, we gave them 10-minute breaks to catch their breath and regroup, we did whatever we needed to do to help that person have a great day!
We stayed home when we were sick!
The Shorewood team is very strong, but they came together to ensure the highest level of care was given to each resident. The team had to adapt quickly almost daily. There were many directors/heads of staff who took on many new roles. Staff delivered Fed Ex/UPS/USPS packages, made biweekly phone calls to independent living residents to ensure they were feeling safe and healthy.
Comfort Health, our licensed care provider, went above and beyond to ensure safety and security of our residents. We had the virus in our building very early on during the pandemic. While we experienced devastating loss, the nursing team did an incredible job of locking down the building and keeping the virus from spreading. Our nursing team went on to be an example that the Minnesota Department of Health used to help other communities.
Our waitstaff delivered meals free of charge to every resident, and the programming department figured out a way to broadcast entertainment on an internal cable channel on the residents' television sets. Our wellness staff created exercise videos that were also broadcast on the internal channel. We were able to broadcast the opera, symphonies, virtual art museum tours, and other educational programs we may not have been able to have in our community pre-pandemic.
Technology has become more widespread for all of us. Staff members were able to continue meetings with our sister communities in The Cities via Zoom and 8x8. We needed to be able to talk about our challenges and opportunities with other people that understood our position.
I am also in awe of scientific research and the ability to launch a vaccine for a virus as quickly as they did.
Our 80- and 90-year-old residents are Zooming or Facetiming with their families. Residents now have access to telehealth with their health care provider. This is so important for residents who may not be as mobile and it's difficult for them to get to the much needed regular check-ups."
'People ... stepped up in incredible ways'
Gianrico Farrugia, M.D.; President and C.E.O., Mayo Clinic
"We did not need the pandemic to know that Mayo Clinic's excellence is due to our staff, but it certainly reinforced it. Also, organizational values are bedrock and are our guiding force. Our Mayo Clinic values—especially teamwork—allowed us to navigate the pandemic for the benefit of our patients and the country overall. We also found that aligned partners accelerate progress. When there is the right fit, you can push harder to get results faster, which we did during the pandemic, enabling us to serve more patients.
There are many stories where people stepped up to help in unexpected ways, but telehealth and virtual health care come to mind. Early in the pandemic, about 20 Mayo Clinic physicians, nurses, information technology specialists and other members of Critical Care Medicine volunteered to help New York-Presbyterian Lawrence Hospital—which was a COVID-19 hotspot at the time—by remotely running a full tele-ICU when they were inundated with patients. New York Presbyterian then took out a full-page newspaper ad thanking Mayo Clinic. That was a feel-good moment for all.
Empowered staff lead effectively in a crisis. During the pandemic, our leadership team helped establish a vision, provided resources, and stood back. People then stepped up in incredible ways. The last 18 months have brought out the very best of Mayo Clinic. I am proud of our ability to, in times of crisis, come closer together to reach new levels of excellence."
'During 2020, there were many helpers'
Staff, Olmsted Medical Center
"During the early months of the COVID-19 pandemic, we wanted to ensure our patients received the care they needed when and how they needed it. One of the many ways we did this was to increase access to telemedicine in the form of telephone or video visits. This allowed patients an easy way to have certain types of appointments from the comfort of their home.
As the State of Minnesota began lifting stay-at-home restrictions, OMC implemented extra safety measures to help our patients feel comfortable when coming for an appointment. This included, but was not limited to, masking requirements, social distancing stickers, plexiglass shields in front of check-in desks, COVID symptom screening at the doors, curbside appointment check-in, and curbside pharmacy pick-up. We also provided masks, made by OMC and community volunteers, to anyone needing one. It was important that we provided an environment where our patients could continue to prioritize their healthcare and do so in the safest environment possible. ...
In March in 2020, OMC's Caring Partners volunteers began sewing fabric face masks to give to all our patients and family members entering our buildings, as well as to give to our employees not involved with direct patient care. Word spread about the mask-making effort by our volunteers and soon individuals and sewing groups from the community began helping to sew masks for OMC. Between mid-March and the end of 2020, volunteers had donated over 24,000 masks. We cannot thank those volunteers enough for helping keep our patients, family members/visitors, and employees protected from the COVID-19 virus.
Businesses in our communities also supported OMC staff by making gifts of personal protective equipment (PPE), donating food and special care items, and offering discounts. Mr. Rogers has been quoted as saying "Look for the helpers. You will always find people who are helping." During 2020, there were many helpers.
Our staff also stepped up to help in many ways. Employees volunteered to work in different areas of the organization, including the community testing site at Graham Park. When the COVID-19 vaccine became available, employees volunteered their time at the OMC COVID-19 Vaccine Clinic with duties ranging from scheduling appointment times to greeting, vaccinating, and monitoring patients.
One of our Core Values states "our employees are the key to our success." And, in responding to COVID-19, our success can be attributed to our dedicated, compassionate, and hard-working employees.
We confirmed what we already knew: We have amazing employees who are dedicated to caring for our patients. When COVID-19 arrived, like many across the country, we had no idea that our world and the way we practice medicine would change as much and as quickly as it did. It required the help of everyone at OMC to make the needed changes that would enable to us to continue to provide our patients with the exceptional care they have come to expect. Changes that might have taken months or years to make, we made happen in days and weeks.
Everyone at OMC worked together to help and support our patients and each other. Together, we navigated unknown roads, and despite bumps along the way, we continued to put our patients first and we were there for our communities who depended on us."