A healthy MVP. A crucial victory. A bunch of money raised for cancer research.
Ben Oakland scored the game-winning goal for the Rochester Grizzlies on a night when they raised thousands of dollars for cancer research. It was a good feeling for the Grizzlies' veteran and the team.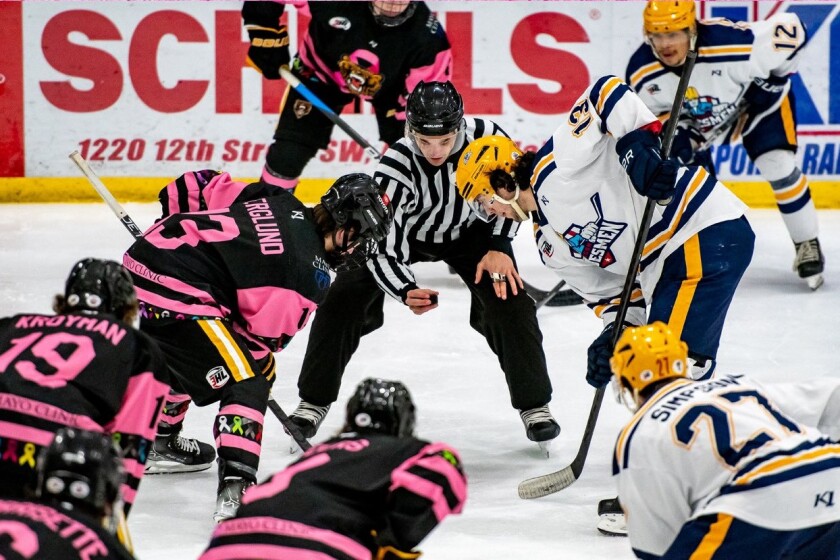 ROCHESTER — Ben Oakland remembers the feeling of fear or helplessness when his grandmother was diagnosed with breast cancer.
He also remembers the feeling of relief and joy when she beat it and was given a clean bill of health within the past two or three years.
So the jersey he wore at the Rochester Recreation Center on Saturday night meant a little bit more, felt a little more special, than usual. A giant pink ribbon was centered on the chest, with the Rochester Grizzlies' logo in the middle.
That Oakland was on the ice and was feeling 100 percent Saturday night felt like a minor miracle in some ways to the Boise, Idaho, native. That he was able to wear the jersey with multiple different-colored ribbons — representing various forms of cancer — was a special feeling, too. The Grizzlies' jerseys were auctioned off following Saturday's game, with proceeds going to support cancer research at Mayo Clinic.
Oakland, who was the MVP of the North American 3 Hockey League's national championship tournament — the Fraser Cup — last spring, is getting back to that level after suffering bouts of pneumonia and mononucleosis this winter. Those illnesses kept him out of practices and games off and on over the course of nearly three months.
He was all smiles late Saturday night, though, after scoring the game-winning goal and assisting two others in Rochester's 4-2 victory against NA3HL Central Division rival Oregon (Wis.). The win is a huge one for the Grizzlies (28-8-4, 60 points), as it allows them to control their own destiny in terms of winning a division championship.
"Anytime we can come out of a weekend with two wins is huge for us," said Oakland, an assistant captain in his third season with Rochester's North American 3 Hockey League team. "And the fact we had these breast cancer jerseys on was big, too.
"I have a grandma who went though breast cancer and beat it a couple of years ago. This has a lot of meaning to me and it feels good to be able to raise money for research like (we did) tonight."
Oregon (25-8-5, 55 points) now sits in second place, five points back.
Rochester has seven regular-season games remaining; Oregon has nine. But Saturday's win — on the heels of Friday's 5-4 overtime win by the Grizzlies — gives them enough of a cushion to negate the four more points Oregon has a chance to gain, by virtue of having two more games remaining than Rochester.
"Huge wins," said Oakland, who has seven goals and 20 points in 18 games with the Grizzlies this season. "This weekend was big for us. We'd been trading (first place in the division) on and off with Oregon. To be able to come away with two wins like this is big. It gives our team a lot of confidence in how we can play, and we hope to carry that into the playoffs and do what we did last year."
Last year, the Grizzlies won the Fraser Cup, capturing the league championship in just their fourth season as a franchise. They are among the favorites to win it this year, too, though the team has struggled to produce a full 60-minute effort for much of the season. That was the case again Saturday, when Rochester was excellent on both ends through two periods, limiting a high-powered Oregon offense to just 13 shots on goal through the first 40 minutes.
But the Grizzlies gave Oregon two power-play opportunities in the final four minutes of the game, after turning the puck over in their own end and surrendering an even-strength goal to the Tradesmen midway through the third period.
"I don't know that confidence has been an issue for our group," Grizzlies head coach Chris Ratzloff said. "It's just the mentality of continually doing things the right way and giving a good 60-minute effort. When we're not at our best, we're trying to beat guys one-on-one, playing as individuals and not moving our feet or finishing checks.
"(Saturday) in the first two periods, we were really working and eliminating their Grade-A chances."
Rochester led 2-1 after one period on goals by Northfield native Spencer Klotz and Hastings' Connor Stoffel.
Oakland then scored the key goal 3:36 into the second period. Ben Dardis took a shot that went wide of the net, bounced hard off the end wall and right to the stick of Oakland, who was stationed at the side of the goal. In one quick motion, Oakland chipped the puck over the blocker-side shoulder of Oregon goalie Tyler Fromolz for a 3-1 Rochester lead.
"It was like I had a pitching iron in my hands," Oakland said, "put it top-shelf."
The three-point game was a bit of a relief for Oakland, and a reminder that he's back to 100 percent and ready to be a key contributor for the Grizzlies again down the stretch in the regular season, and into the playoffs.
"It's been a weird season," said Oakland, who played in his 100th career junior hockey game Saturday. "Definitely some ups and downs, coming from the NAHL (Minnesota Wilderness) early this season down to here. I played consistently for a bit then got sick, so that was a bit of a ... I had to work through that and now, in the past couple weeks, I feel like I'm back into it."
BOX SCORE: Rochester Grizzlies 4, Oregon Tradesmen 2
NA3HL CENTRAL DIVISION STANDINGS

| | | | |
| --- | --- | --- | --- |
| TEAM | GAMES | RECORD | PTS. |
| x-Rochester | 40 | 28-8-4 | 60 |
| x-Oregon | 38 | 25-8-5 | 55 |
| Milwaukee | 39 | 23-13-3 | 49 |
| Peoria | 39 | 22-15-2 | 46 |
| Wausau | 39 | 13-22-4 | 30 |
| St. Louis | 38 | 8-30-0 | 16 |
X — clinched playoff spot