Hill-Murray uses 17-0 run to top Austin in AAA quarterfinals: 'Against a good team, you can't have slumps like that'
Austin saw its season come to an end in the quarterfinals of the Class AAA girls basketball tournament with a 60-47 loss to No. 1 Hill-Murray on Tuesday in Rochester.
One big scoring run by Hill-Murray. That's what cost the Austin girls basketball team a possible upset of the top-ranked team in quarterfinals of the Class AAA state tournament on Tuesday.
Austin, the No. 4 seed in the South Division of the bracket, held a 15-9 lead against Hill-Murray, the No. 1 seed in the South, midway through the first half. But the Ponies, ranked No. 1 in the state in Class AAA, used a decisive 17-0 run to take the lead en route to a 60-47 victory at Mayo High School.
"We just got some slippery fingers and made some mental errors," Austin coach Eric Zoske said of the Ponies' big run. "It was a little off-putting, it's something we haven't gone through during the year. Besides that run, I thought we executed very well."
Hill-Murray (20-1) made six of its 10 3-pointers in the first half and was solid from the outside while Austin went cold during the Ponies' 17-0 run. Austin's six-point lead turned into a 26-15 deficit and the Packers trailed 26-19 at the half.
"Against a good team, you can't have slumps like that," said Elyse Hebrink, Austin's lone senior. "We were making runs too, but they were a very good competitive team and they were just able to keep chipping away at us."
The Packers wanted to push the pace, which they did on occasion, but they were unable to make enough shots. Hill-Murray entered allowing less than 37 points per game so the Packers knew that scoring points would be at a premium.
"I think in the second half we went through spurts where we were pushing the floor," Hebrink said. "When we wanted to get wide-open layups in transition we were able to. But we just weren't pushing the ball enough, and they were really knocking down shots and we weren't."
Lilli Mackley led Hill-Murray with 27 points, 18 in the second half. The 6-foot senior guard was 10-for-10 at the line and scored 12 of Hill-Murray's final 13 points.
"She was just a little too much for us to handle down the stretch," Zoske said.
The Packers focused on Hill-Murray junior Ella Runyon, and with Henbrink playing solid defense on her, they held Runyon to two points and no field goals.
"We did a fantastic job on one of the best players around," Zoske said. "But you shut one down and then Mackley took over."
The Packers had chances to get back in the game in the second half. Austin was within six with just under 10 minutes to play and narrowly missed a 3-pointer. Hill-Murray's Bella Hartzel then hit a three to boost the margin back to nine and the Packers never got closer than eight the rest of the way.
"That was a six-point swing," Zoske said. "Just little things like that add up over the course of the game. We just couldn't quite get over the hump."
Junior Hope Dudycha led Austin with 15 points, nine in the first half. Cassidy Shute had nine points for Austin and Hebrink added eight.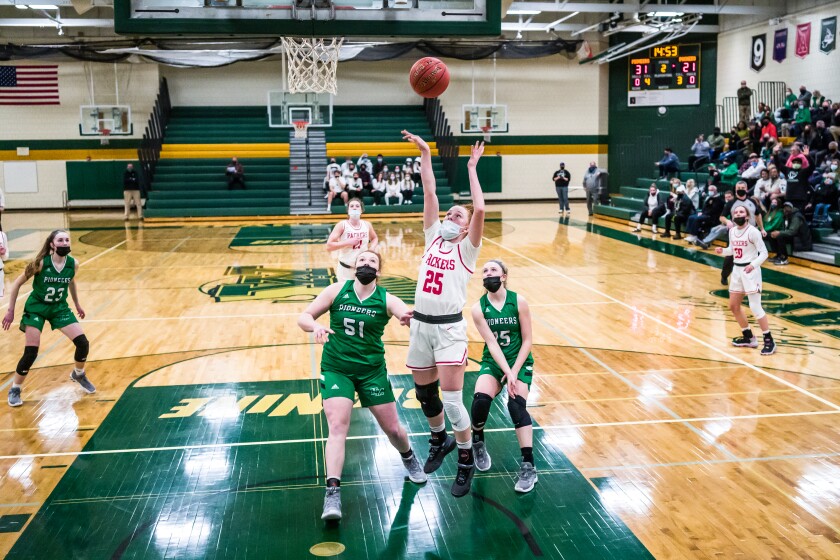 "This is one of the best teams I've been a part of in my five years of varsity experience," Hebrink said. "Just the girls and the style of play and how selfless we are. It's just awesome to be part of a team like this and it's amazing we were able to get to the state tournament."
Hill-Murray advances to the state semifinals at 9 p.m. on April 6 at Target Center. The Packers finish the season 11-5.
Zoske said his players have missed out on a lot of school-related activities due to the pandemic so he was thrilled they got to experience the state tournament.
"There's a lot of special kids on this team and I'm just so proud of them being successful in a year that has been just a complete mess," he said.
Hill-Murray 60, Austin 47
AUSTIN (47)
Hope Dudycha 15 P, 2 3-PT; Emma Dudycha 5 P, 1 3-PT; Elyse Hebrink 8 P; Reana Schmitt 6 P; Olivia Walsh 4 P; Cassidy Shute 9 P, 1 3-PT.
HILL-MURRAY (60)
Claire Pearson 6 P, 2 3-PT; Maya Giese 3 P, 1 3-PT; Evelyn Perkins 7 P, 2 3-PT; Bella Hartzel 12 P, 2 3-PT; Lilli Mackley 27 P, 3 3-PT; Emma Lienemann 3 P; Ella Runyon 2 P.
Halftime: HM 26, AUS 19.
Free throws: AUS 5-7, HM 11-12.
Three-point goals: AUS 4, HM 10.
1
/
5:
Austin's Emma Dudycha (10) drives towards the basket while being defended by Hill-Murray's Evelyn Perkins (20) during a Class AAA state quarterfinal girls basketball game on Tuesday, March 30, 2021, at Mayo High School in Rochester. Hill-Murray won the contest 60-47. (Traci Westcott / twestcott@postbulletin.com)
2
/
5:
Austin's Olivia Walsh goes up for a shot while defended by Hill-Murray's Ella Runyon (15) during a Class AAA state quarterfinal girls basketball game on Tuesday, March 30, 2021, at Mayo High School in Rochester. (Traci Westcott / twestcott@postbulletin.com)
3
/
5:
Austin's Hope Dudycha (2) goes up for a shot during a Class AAA state quarterfinal girls basketball game against Hill-Murray on Tuesday, March 30, 2021, at Mayo High School in Rochester. Dudycha scored 15 points in Austin's 60-47 loss. (Traci Westcott / twestcott@postbulletin.com)
4
/
5:
The Austin student section cheers during a Class AAA state quarterfinal girls basketball game on Tuesday, March 30, 2021, at Mayo High School in Rochester. (Traci Westcott / twestcott@postbulletin.com)
5
/
5:
Austin coach Eric Zoske hugs Emma Dudycha (10), Elyse Hebrink (20) and Hope Dudycha (2) after the Packers lost a Class AAA state quarterfinal girls basketball game against Hill-Murray on Tuesday, March 30, 2021, at Mayo High School in Rochester. (Traci Westcott / twestcott@postbulletin.com)