ND's Meadowlark Initiative seeks to protect grasslands while working with state's ranchers, farmers
Game and Fish Department and more than a dozen partners spearhead program to preserve, re-establish vital native prairie
FARGO — The Western meadowlark is the canary in the coal mine for prairie grasslands, if you will. North Dakota's state bird — with a distinctive black V on its chest, yellow breast and familiar whistle-and-warble song — has been declining in number for years thanks to disappearing and degraded habitat.
The North Dakota Game and Fish Department estimates Western meadowlark population in the state is declining 1.3% a year. Grassland birds overall have declined 53% since 1970, a loss of an estimated 720 million birds.
The reason is loss of native prairie, home to the meadowlark and hundreds of other wildlife species. North Dakota has lost nearly three-fourths of its native prairie as it's been converted to other uses. Meadowlarks, other songbirds, game birds, mammals including game species like white-tailed deer, bumble bees, insects and other critters have all suffered as the wild prairie has disappeared.
Thus the "canary in the coal mine" analogy. Coal miners used to take canaries into mines with them. If the canaries died, miners knew dangerous gases were present and they were at risk. So if meadowlarks are disappearing from North Dakota, what other species might be in danger?
"There are so many species of wildlife that rely on those habitats that we needed to take a hard look at how to preserve those grasslands," said Kevin Kading, private lands section leader with the NDGF.
After years of discussion and planning, the result is the Meadowlark Initiative. Announced late last year with early stages of implementation this spring, the program is a collaborative effort between more than a dozen partners to work with ranchers and farmers to re-establish or improve grasslands and to provide cost-share funding.
"We chose the Western meadowlark to be the ambassador for this because it is our state bird and so representative of our prairie. But it's about much more than just the meadowlark," Kading said.
In 2020 NDGF and its partners submitted a grant proposal through the U.S. Department of Agriculture's Regional Conservation Partnership Program, seeking to leverage over $12 million in partner contributions with $10 million of USDA-Natural Resources Conservation Service funding to kick-start the initiative.
The collaborative aspect is important. More than 90% of North Dakota is privately owned, so NDGF and partners like Audubon Dakota, Pheasants Forever and Ducks Unlimited knew they had to work closely with producers — especially ranchers — to accomplish their goals.
"This will support the ranching community because without ranchers, we have no grasslands. Working grasslands are an important aspect of this," said Rachel Bush, North Dakota state coordinator for Pheasants Forever.
Through the initiative, producers can plant marginal land back to diverse native grasslands for grazing. The program provides money to establish the grass and to provide ranching infrastructure like fencing and water.
The idea behind the initiative, Kading said, is to provide a one-stop shop where interested parties can get access and consultation on programs that fit their situation. A rancher in the western part of the state will have different needs than a farmer in central North Dakota, for example.
There are also opportunities for city residents who want to convert their backyards into butterfly gardens to attract.
"We've heard from city people in Fargo, Bismarck and Minot ask about it. They want to get involved," Kading said.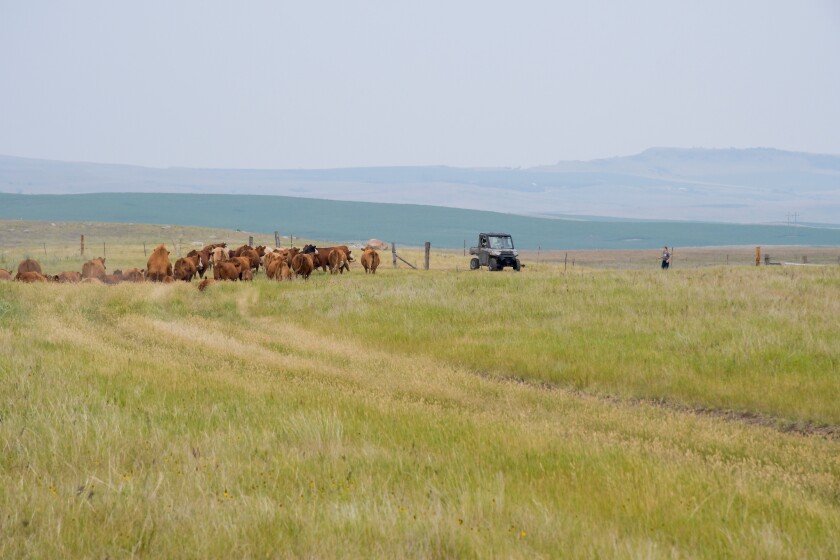 One of the issues with the loss of grasslands is that Americans often don't view prairies as diverse, important habitat. They think first of forests, lakes or rivers, according to Sarah Hewitt of Audubon Dakota. They might even think of international issues before disappearing prairie.
"Look at the Amazon rain forest. Everybody knows about that. Everybody knows that is disappearing," Hewitt said. "We have our own ecological issues right here that need attention."
Conservationists say that healthy grasslands are home to hundreds of species of birds and animals while improving water quality, stopping erosion and promoting soil health.
Kading said landowner interest in the Meadowlark Initiative has been high with "a nice sign-up" so far. Grass will be planted this spring on some pieces of land.
"Our grant called for 20,000 acres of new grass, but when you add in our partners and agencies it could be more than that," Kading said. "We're hoping to be strategic with some of our plantings so that new grasslands could be added or connected to existing grasslands. That connectivity benefits species and pollinators, who often need large blocks of grassland for their habitat."
Every partner stresses the importance of working and supporting ranchers to make the Meadowlark Initiative successful.
"They are the real stewards of the grasslands," Hewitt said. "We need them on the land and we need them to be successful for this to work, and we will work to support them."