Boys hockey results for Saturday, Feb. 18, 2023
A scoreboard of Saturday's southeastern Minnesota boys hockey games.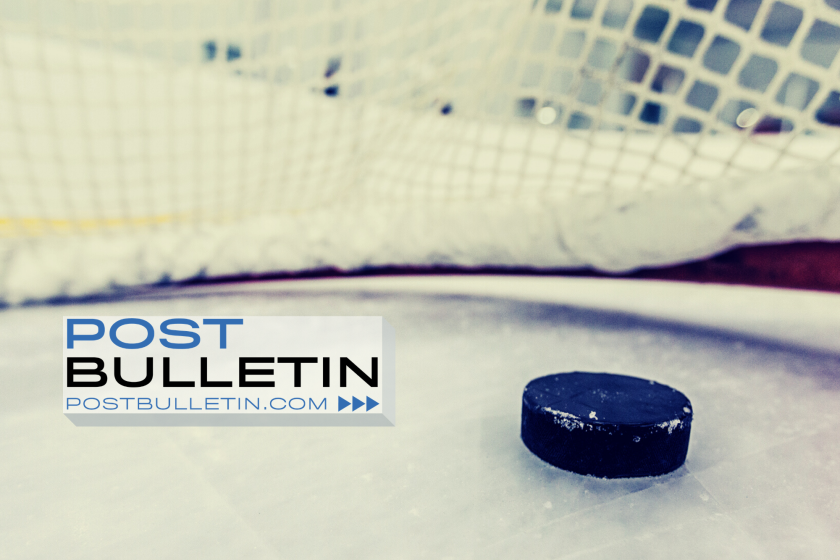 ROCHESTER — Senior goalie Cole Rocholl stopped all 19 shots he faced to record his fifth consecutive victory as a starter and his second consecutive shutout, backstopping Rochester Century to a 5-0 Big Nine Conference boys hockey victory against Winona at Graham Arena IV on Saturday.
Century (12-4-0 Big Nine Conference, 15-10-0 overall) made a strong run at a conference championship, finishing just two points shy of Northfield and in second place.
Panthers senior forward Blake Kanz scored two minutes into the game — a goal that held up as the game winner — then added another with 3:47 to play in the first to give his team a 2-0 lead after one period.
Jonathan Burmester and Justin Sutton scored 53 seconds apart midway through the second period to extend Century's lead to 4-0.
Jonah Ottman added a short-handed goal in the third to cap the scoring.
Winona goalie Michael Dubek was outstanding on his end, stopping 58 shots as Century outshot the Winhawks 63-19.
Kanz added one assist for a three-point game.
Brody Josselyn (two assists), Sutton (one goal, one assist), Ottman (one goal, one assist) and Aiden Emerich (two assists) had two-point games.
Century will learn Sunday its seed in the Section 1AA playoffs — the Panthers are likely to be the No. 5 seed in the eight-team playoffs — which begin Thursday.
CENTURY 5, WINONA 0
Winona 0-0-0 — 0
Century 2-2-1 — 5
Winona: Goalie: Michael Dubek 58 saves (63 shots).
Century: Brody Josselyn 2 assists; Jonah Ottman 1 goal, 1 assist; Jonathan Burmester 1 goal; Justin Sutton 1 goal, 1 assist; Aiden Emerich 2 assists; Bennett Pronk 1 assist; T.J. Gibson 1 assist; Kroix Klingfus 1 assist; Blake Kanz 2 goals, 1 assist. Goalie: Cole Rocholl 19 saves (19 shots).
ROCHESTER — Rochester Mayo put an exclamation mark on a fantastic regular season Saturday night at Graham Arena I.
Senior forward Sam Jacobson scored on the first shift of the second period — en route to a hat trick in his final regular season game — to give Mayo the lead for good, as they blew out rival Albert Lea 7-1 to close the regular season.
Mayo (10-3-1 Big Nine Conference, 18-5-2 overall) will carry the momentum of Saturday's win into the Section 1AA playoffs, which begin Thursday. The seeding for the tournament will be announced Sunday. The Spartans could be the No. 2 seed in the eight-team section, after beating Lakeville North and tying Hastings in regular-season matchups.
Saturday, the Spartans received 15 saves from senior goalie Nick Weick and a four-point game from leading scorer Cohen Ruskell as they pulled away from Albert Lea in the second period.
The score was tied 1-1 after one period as Albert Lea's Joseph Yoon and Mayo's Ryan Dripps traded goals in the opening five minutes.
The Tigers couldn't get another one past Weick, who is 16-5-2 with a 2.48 goals-against average this season.
Jacobson and his teammates gave Weick more than enough goal support. Jacobson, who has 15 goals and 33 points this season, scored twice in the first 5:25 of the second to give Mayo a permanent lead. Ruskell added his first of the night midway through the period.
Jacob Brown, Ruskell and Jacobson then scored once each in the third period to give Mayo a commanding victory.
Ethan Dennis had three assists in the win and Gavin Black had two.
Albert Lea finishes the regular season 18-6-1 and will likely be a top-three seed in the Section 1A tournament, which begins Tuesday.
MAYO 7, ALBERT LEA 1
Albert Lea 1-0-0 — 1
Mayo 1-3-3 — 7
Albert Lea: Joseph Yoon 1 goal; Dakota Jahnke 1 assist. Goalie: Dakota Jahnke 35 saves (42 shots).
Mayo: Jacob Brown 1 goal; Will Sexton 1 assist; Ethan Dennis 3 assists; Gavin Black 2 assists; Ryan Dripps 1 goal; Sam Jacobson 3 goals; Payton Kor 1 assist; Matthew Siems 1 assist; Mikkel Norby 1 assist; Alec McBane 1 assist; Cohen Ruskell 2 goals, 2 assists. Goalie: Nick Weick 15 saves (16 shots).
ROCHESTER — If this was indeed the last game in Rochester for John Marshall's Mason Decker, he made sure to go out in a big way, as did the entire Rockets team.
Decker, a senior and the team's leading scorer, scored one goal and assisted on four more, for a five-point game, as JM rolled to an 8-0 Big Nine Conference win Saturday night at the Rochester Recreation Center against visiting Red Wing.
John Marshall (8-6-1 Big Nine, 14-10-1 overall) led 2-0 after one period and 5-0 after two.
Cody Vlasaty (23 saves) and Thor Shelley (eight saves) combined for a 31-save shutout.
Seven Rockets had multi-point games, led by Decker's five-point game. Ole Fevold (two goals, one assist) and JT Veney (three assists) had three points each. Brock Clarey, Cody Ahlstrom, Peyton Eckhoff and Aaron Terpstra had two points apiece.
Senior Dylan Greer scored his first varsity goal in the win, a fitting way to do so, in what is likely his final home game as a Rocket. His teammates knew exactly what happened, too, as the bench erupted and the Rockets on the ice with him piled on top of Greer to celebrate.
JM will learn Sunday where it will be seeded in the eight-team Section 1AA tournament, which begins Thursday at the sites of the higher seeds.
Ellis Petersmeyer made 40 saves for Red Wing (0-12-3, 1-20-4), which will open play in the Section 1A tournament on Tuesday.
JM 8, RED WING 0
Red Wing 0-0-0 — 0
John Marshall 2-3-3 — 8
Red Wing: Goalie: Ellis Petersmeyer 40 saves (48 shots).
John Marshall: Ole Fevold 2 goals, 1 assist; Brock Clarey 1 goal, 1 assist; Mason Decker 1 goal, 4 assists; JT Veney 3 assists; Peyton Eckhoff 2 goals; Cody Ahlstrom 2 assists; Aaron Terpstra 1 goal, 1 assist; Adam Hegrenes 1 assist; Adrian Thomas 1 assist; Dylan Greer 1 goal; Aiden Kang 1 assist. Goalies: Cody Vlasaty, 34:00, 23 saves (23 shots); Thor Shelley, 17:00, 8 saves (8 shots).
ROCHESTER — Rochester Lourdes started strong, but Irondale finished stronger.
Lourdes jumped out to a 3-0 lead in the first period and led 3-1 after two periods, but Irondale pounced for five goals in the third to rally past the Eagles 6-3 at Graham Arena I in the regular season finale for both teams.
The good news for the Eagles was the return of standout forward Jack Roe. The sophomore had been out of the lineup for more than two months with an injury suffered in mid-December, that was at first thought to be season ending. But Roe returned to practice this week and contributed in a big way Saturday, scoring a goal and assisting on another.
Though Roe didn't play a regular shift, he was able to make an impact on the game and will give the Eagles a boost as they enter Section 1A postseason play early next week. The seedings for the section tournament will be announced Sunday.
Colton Rich and Brayden Swee also scored for Lourdes (9-16-0) to give it a lead for a majority of the game. Rich also had one assist, and Peyton Loeslie had a two-assist game.
The third period belonged to Irondale, though. Parker Henry scored 1:10 into the final period, then Grady Springborn scored twice in less than four minutes to put his team up for good with approximately 11 minutes left.
Xander Carter-Kleven made 30 saves for the Eagles.
IRONDALE 6, LOURDES 3
Irondale 0-1-5 — 6
Lourdes 3-0-0 — 3
Irondale: Parker Henry 1 goal, 1 assist; Johnny Slack 2 assists; Grady Springborn 2 goals, 1 assist; Hans Otte 1 goal; Dylan Held 1 assist; Gavin Fagerlee 1 goal; Gavin Bourassa 1 assist; Cameron DeCoux 1 goal. Goalie: June McGrath 32 saves (35 shots).
Lourdes: Colton Rich 1 goal, 1 assist; Jack Roe 1 goal, 1 assist; Peyton Loeslie 2 assists; Brayden Swee 1 goal. Goalie: Xander Carter-Kleven 30 saves (36 shots).
OWATONNA 6, AUSTIN 0
Austin 0-0-0 — 0
Owatonna 1-3-2 — 6
Austin: Goalie: Daran Plunkett 40 saves (46 shots).
Owatonna: Broderick Goodnature 1 assist; Andrew Mitchel 2 goals, 2 assists; Joseph Webster 1 goal, 2 assists; Mark Spurgeon 1 goal, 2 assists; Thomas Herzog 1 goal; Collin Martin 1 assist; Zach Knott 1 goal; Seth Johnson 3 assists. Goalie: Garret Stelter 9 saves (9 shots).