Boys hockey results for Saturday, Feb. 4, 2023: JM topples another intra-city rival
A scoreboard of Saturday's southeastern Minnesota boys hockey games.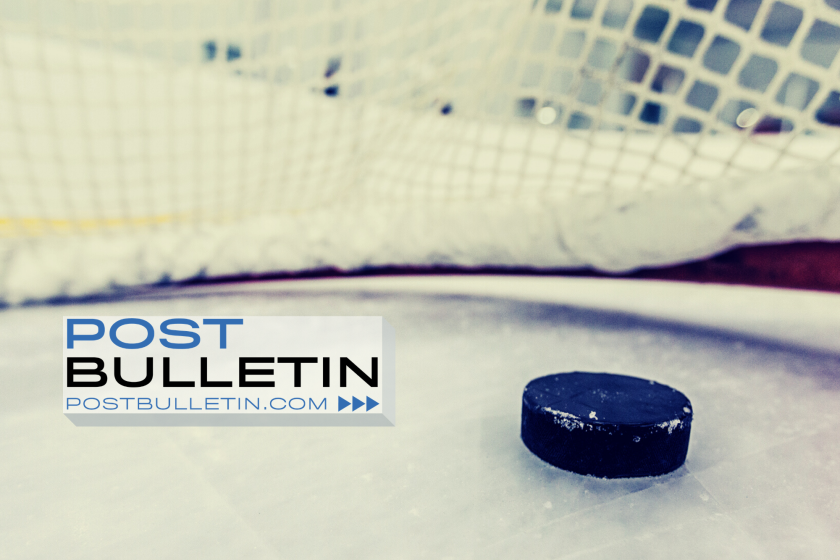 ROCHESTER — It's no longer reasonable to categorize any victory by the Rochester John Marshall boys hockey team as a "stunner" or an "upset."
The Rockets have more than earned the right to be considered a team to be reckoned with by Big Nine Conference and Section 1AA opponents.
Despite playing with an injury depleted roster that has seen as few as 13 skaters dress at times this season, John Marshall has continued to defy expectations and has opened some eyes across southeastern Minnesota.
The Rockets did so again Saturday, beating an intra-city rival for the second time in a span of three weeks. JM beat rival Mayo on Jan. 14 (5-3). Thursday, it went to Northfield and beat the No. 6-ranked Raiders 6-4. Saturday, the Rockets took down rival Century 4-1 at Graham Arena IV.
JM is now 5-5-1 in the Big Nine Conference and 11-9-1 overall. Century is 8-3-0 and 11-9-0.
Senior goalie Cody Vlasaty has been a big reason why the Rockets are finding so much success, and he was a big key again Saturday night. Vlasaty was outstanding in goal, making 48 saves on 49 shots faced, including 18 saves in the second period and 21 in the third.
The Rockets never trailed against Century, taking the lead for good on a Mason Decker goal 5:53 into the game. JT Veney added a momentum-boosting tally with just 2 seconds to play in the opening period, giving the Rockets a 2-0 lead after one.
Century battled back in the second period, as Justin Sutton scored 5:10 into the frame, with an assist from Bennett Pronk, to pull the Panthers within 2-1.
JM sealed the victory in the third, when Ole Fevold scored on a power play with 6:37 to play, then Decker scored his second of the game with 3:40 remaining.
Kyle Lappi was strong in goal for Century, making 33 saves to keep the game close through more than two-and-a-half periods.
Century returns to action at 7 p.m. Tuesday at Owatonna, while JM hosts Austin at 7:15 p.m. Tuesday at the Rochester Recreation Center.
JM 4, CENTURY 1
John Marshall 2-0-2 — 4
Century 0-1-0 — 1
John Marshall: JT Veney 1 goal; Mason Decker 2 goals; Ole Fevold 1 goal, 1 assist; Damon Miller 1 assist; Aiden Kang 1 assist. Goalie: Cody Vlasaty 48 saves (49 shots).
Century: Justin Sutton 1 goal; Bennett Pronk 1 assist. Goalie: Kyle Lappi 33 saves (37 shots).
ROCHESTER — Mason Leimbek scored twice, while Ethan Dennis and Cohen Ruskell scored once each as Rochester Mayo defeated Section 1AA rival Farmington 4-1 on Saturday night in a non-conference boys hockey game at Graham Arena I.
Mayo led 2-1 after one period and 4-1 after two.
Nick Weick was once again strong in goal for the Spartans, helping them improve to 15-4-2 overall this season.
Mayo is 4-1-1 against Section 1AA opponents, with one regular season game remaining against a section opponent (Saturday, Feb. 11, vs. Century; 7:15 p.m. at Graham Arena I).
MAYO 4, FARMINGTON 1
Farmington 1-0-0 — 1
Mayo 2-2-0 — 4
Farmington: scoring not available. Goalie: Jack McGregor 24 saves (28 shots).
Mayo: Mason Leimbek 2 goals; Matthew Siems 1 assist; Tommy Verdick 1 assist; Cohen Ruskell 1 goal, 1 assist; Ethan Dennis 1 goal; Sam Jacobson 2 assists. Goalie: Nick Weick 23 saves (24 shots).
Dodge County 3, Irondale 1
BLAINE — Dodge County showed no signs of playing a second game in less than a 24-hour span Saturday afternoon, jumping out to an early lead en route to a 3-1 non-conference boys hockey victory against Irondale at the National Sports Center.
Griffin Gibbs scored 6:22 into the game — his second career goal, coming on the heels of his first, in an OT loss to Hopkins Friday night — to give Dodge County (11-9-0 overall) the lead for good.
The Wildcats stretched their lead in the second on goals by Caeden Smith and Gryffon Funke, who also had one assist in the game.
Irondale's Parker Henry scored 6:49 into the third to make it a 3-1 game, but that was the only shot that beat Dodge County goalie Jackson Roethler, who made 28 saves in the win.
Dodge County returns to action at 7:15 p.m. Tuesday at Mankato West.
DODGE COUNTY 3, IRONDALE 1
Dodge County 1-2-0 — 3
Irondale 0-0-1 — 1
Dodge County: Griffin Gibbs 1 goal; Caeden Smith 1 goal; Gryffon Funke 1 goal, 1 assist. Goalie: Jackson Roethler 28 saves (29 shots).
Irondale: Parker Henry 1 goal; Jayden Remore 1 assist. Goalies: June McGrath 16 saves (19 shots); Alex Sabev 18 saves (18 shots).
WINONA 4, AUSTIN 0
Winona 1-1-2 — 4
Austin 0-0-0 — 0
Winona: John Vail 1 goal; Aiden Kronebusch 1 assist; Teis Larsen 3 goals; Mason Wadewitz 1 assist; Chase Rumpca 1 assist. Goalie: Michael Dubek 25 saves (25 shots).
Austin: Goalie: Ethan Knox 39 saves (43 shots).
— — —
FARIBAULT 4, RED WING 1
Red Wing 0-0-1 — 1
Faribault 1-3-0 — 4
Red Wing: Ethan Anderson 1 goal; Cam Schlichting 1 assist. Goalie: Ellis Petersmeyer 49 saves (53 shots).
Faribault: Owen Amelkovich 1 goal, 1 assist; Logan Peroutka 1 goal, 1 assist; Oliver Linnemann 1 assist; Owen Nesburg 1 goal; Beau Velishek 1 goal. Goalie: Jacob Scherf 20 saves (21 shots).
— — —
ST. PAUL ACADEMY 3, La CRESCENT-HOKAH 1
La Crescent 0-0-1 — 1
St. Paul Academy 0-1-2 — 3
La Crescent-Hokah: Wyatt Farrell 1 goal; Nathan Masterson 1 assist; AJ Donovan 1 assist. Goalie: Logan Yehle 29 saves (31 shots).
St. Paul Academy & Summit: Will Black 3 goals; George Peltier 2 assists; Nelson Wodarz 1 assist; Alex Armada 2 assists. Goalie: Isak Bildtsen 22 saves (23 shots).