Boys hockey results for Thursday, Dec. 1, 2022
A scoreboard of Thursday's southeastern Minnesota boys hockey games.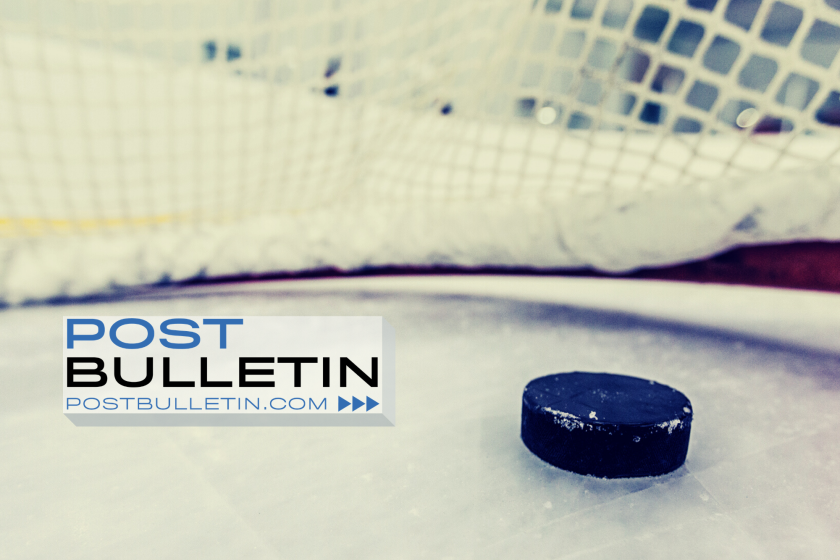 We are part of The Trust Project.
Mayo 3, Hastings 3, OT (tie)
HASTINGS — Rochester Mayo and Hastings seem to be the definition of evenly matched over the past two seasons.
A year ago, Hastings came to Graham Arena and edged Mayo in overtime.
Thursday night, Mayo made the trip north and took Hastings to OT on its home ice, but that's where it ended. After 59 minutes, the Section 1AA rivals ended in a tie, 3-3.
The Spartans (0-2-1 overall) outshot the Raiders (0-0-1) by a 40-31 total, but both goalies were sharp when they needed to be. Nick Weick made 28 stops for Mayo, while Kody Niederkorn made 37 saves for Hastings.
The teams traded goals for most of the game.
The score was tied 1-1 after one, as Mayo's Cohen Ruskell scored with just 15 seconds to go in the period.
Hastings regained the lead midway through the second period, but Mason Leimbek scored twice in the final 3:18 of the period to give the Spartans their first lead, 3-2, after two.
Hastings pressed throughout the third period and finally knotted the score with 5:51 to play, when Connor Zgoda notched an even-strength goal.
That was it for the scoring, as Niederkorn came up big time and again in OT, making 10 stops as the Spartans outshot Hastings 10-1 in the extra period.
"(Weick) played great again," Mayo coach Matt Notermann said. "Leimbek seems to be understanding what and why he's a special player and how to use his gifts. Our boys had nice improvement, we just couldn't finish it off."
Mayo has had a tough start to its schedule, playing now-No. 1 ranked Minnetonka and No. 15 Chanhassen last weekend in its season openers. Following Thursday's game at Hastings, Mayo opens Big Nine Conference play at Winona on Tuesday. The Spartans then cap their six-game road trip to open the season by playing at Hibbing/Chisholm on Friday, Dec. 9, and at Proctor on Saturday, Sept. 10.
MAYO 3, HASTINGS 3, OT (tie)
Mayo 1-2-0-0 — 3
Hastings 1-1-1-0 — 3
Mayo: Will Sexton 1 assist; Gavin Black 1 assist; Sam Jacobson 1 assist; Payton Kor 1 assist; Mason Leimbek 2 goals; Cohen Ruskell 1 goal, 1 assist. Goalie: Nick Weick 28 saves (31 shots).
Hastings: Mark DeNoyer 1 assist; Blake Vanderhoef 1 goal; Brody Carlson 1 assist; Jon Harris 1 goal, 1 assist; Matt Sherry 1 assist; Connor Zgoda 1 goal; Sawyer Zaruba 1 assist. Goalie: Kody Niederkorn 37 saves (40 shots).
RICHFIELD — The "0" in the win column for Rochester Century isn't quite indicative of how well the Panthers have played early this season.
Century dropped to 0-2-0 overall Thursday night with a narrow 4-3 loss at Academy of Holy Angels. It's the Panthers' second one-goal loss of the season and the second time in two games they've had a chance to win a game in the third period.
Century took Roseville to overtime in its season opener on Saturday, before falling 5-4.
Thursday, Century held a 3-2 lead with five minutes remaining in the third period, but Holy Angels rallied with an even-strength goal from Charlie Clements with 4:43 to go, then won the game on a power-play goal by Charlie Cline with 1:28 to play.
Holy Angels led 1-0 after one period, then Aiden Emerich's second-period goal tied the score at 1-1 after two. Eddy Retzlaff and T.J. Gibson scored 42 seconds apart in the first four minutes of the third period to put the Panthers ahead for the first time in the game, 3-2.
Holy Angels outshot Century 39-26 in the game, but Panthers goalie Carter Nelson was strong for a second straight game, making 35 stops. He made 29 saves in the season opener against Roseville.
Century opens Big Nine Conference play Friday night at Mankato East, at 7:15 p.m. at All Seasons Arena.
HOLY ANGELS 4, CENTURY 3
Century 0-1-2 — 3
Holy Angels 1-0-3 — 4
Century: Aiden Emerich 1 goal; T.J. Gibson 1 goal, 1 assist; Andrew Hedin 1 assist; Eddy Retzlaff 1 goal. Goalie: Carter Nelson 35 saves (39 shots).
Academy of Holy Angels: Charlie Clements 1 goal; Henry Lechner 1 assist; Charlie Cline 1 goal, 1 assist; Connor Hanley 1 assist; Gabe Perron 1 assist; Lincoln Ayers Assad 1 goal; Jack Bartfield 1 goal, 1 assist. Goalie: Luke Marsalek 23 saves (26 shots).
FARIBAULT — Rochester John Marshall suffered its first setback of the season, running into a hot goalie in a 5-0 loss at Faribault on Thursday in the Rockets' Big Nine Conference opener.
Dustin Boyd stopped all 25 shots he faced in nearly 40 minutes of work, before giving way to Jacob Scherf, who stopped the only two shots he faced.
Cody Vlasaty (19 saves) and Thor Shelley (7 saves) split time in goal for JM (0-1-0 Big Nine Conference, 1-1-0 overall).
Brody Redding had a hat trick to lead the Falcons' offense.
JM plays host to St. Paul Johnson at 3 p.m. Saturday at the Rochester Recreation Center.
FARIBAULT 5, JM 0
JM 0-0-0 — 0
Faribault 1-2-2 — 5
John Marshall: Goalies: Cody Vlasaty (37:03) 19 saves (23 shots); Thor Shelley (13:57) 7 saves (8 shots).
Faribault: Parker Morrow 1 assist; Tommy Kunze 1 goal; Justin Drevlow 1 assist; Brody Redding 3 goals; Nick Archambault 1 assist; Owen Nesburg 1 assist. Goalies: Dustin Boyd (39:58) 25 saves (25 shots); Jacob Scherf (11:02) 2 saves (2 shots).
LaCRESCENT-HOKAH 10, RED WING 1
Red Wing 1-0-0 — 1
La Crescent 5-5-0 — 10
Red Wing: Carson Frank 1 goal; Ethan Anderson 1 assist. Goalies: Ellis Petersmeyer (34:00), 33 saves (43 shots); Ben Flaaen (17:00), 14 saves (14 shots).
La Crescent-Hokah: Wyatt Farrell 2 goals, 1 assist; Mitchell Reining 1 assist; Nikolas Kubecka 1 assist; Logan DeBoer 1 assist; Colton Holzer 1 goal, 1 assist; Jan Bla'ha 1 assist; Alex Von Arx 3 assists; Cooper Carlson 5 goals; Ethan Myhre 2 goals, 1 assist. Goalie: Collin Morken 9 saves (10 shots).
AQUINAS 4, WINONA 3, OT
Aquinas 1-0-2-1 — 4
Winona 2-1-0-0 — 3
La Crosse Aquinas: Calvin Gilbertson 1 goal, 1 assist; Tanner Bass 1 goal, 1 assist; Owen Hoehn 1 goal; Casey Keane 1 goal. Goalie: Keaton Breske 23 saves (26 shots).
Winona: John Vail 1 assist; Aven Prodzinski 1 goal; Wesylee Kohner 1 goal; Teis Larsen 1 goal, 1 assist. Goalie: Michael Dubek 31 saves (35 shots).