Boys hockey results for Thursday, Feb. 2, 2023: Century, JM score big Big Nine wins
A scoreboard of Thursday's southeastern Minnesota boys hockey games.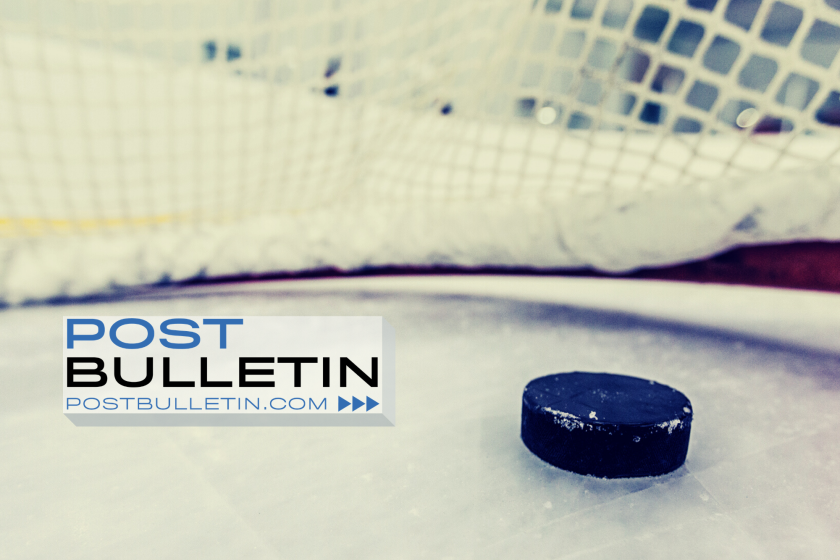 NORTHFIELD — Rochester John Marshall has battled through injuries, illnesses and everything in between this season, but one thing has been certain for the Rockets: No matter how many players or which players they have on the ice on a given night, they're going to use every ounce of their talent and teamwork to their advantage.
That was the case again Thursday, as, for the second time in three weeks, the Rockets stunned a Big Nine Conference boys hockey title contender.
Back on Jan. 14, the Rockets took down intra-city rival Mayo 5-3 on Mayo's home ice
JM did it again Thursday, building a three-goal lead, watching Northfield rally to take a lead, then fighting back to beat the Raiders 6-4 on their home ice.
The win is JM's 10th of the season and pushes it over .500 at 10-9-1 overall. The Rockets are 4-5-1 in conference play. Northfield, the No. 6-ranked team in the state in Class A, dropped to 9-3-0 in the Big Nine and 15-5-0 overall.
JM's backbone — senior goalie Cody Vlasaty — was once again a big part of the Rockets' win. He recorded a season-high 44 saves, improving his season save percentage to .891. Its the eighth time in 18 games this year that Vlasaty has made more than 35 saves. Thursday, he stopped 16 shots in the first period, 17 in the second and 11 in the third.
His teammates had his back, scoring on six of their 18 shots on goal.
Mason Decker scored 1:41 into the game for a 1-0 JM lead; that's how the score remained after one period.
Then the floodgates opened. The teams combined for four goals in the second period and five in the third.
JT Veney and Cody Ahlstrom scored for the Rockets in the second, which ended with JM leading 3-2.
Northfield scored the first two goals of the third period by Cayden Monson and Brayden Olson — who had a hat trick in the game — to take a 4-3 lead.
JM didn't quit, though, taking advantage of a five-minute major power play midway through the third to regain the lead for good. Decker scored at the 8:55 mark of the third to tie the score 4-4. Just 19 seconds later, on the same power play, junior forward Damon Miller scored his third goal of the season — and first since Dec. 15 — to give his team the lead for good, 5-4. Miller's goal held up as the game winner.
Ole Fevold, who had a three-point game, added an empty-net goal in the final minute to seal a momentum-building victory for JM.
JM 6, NORTHFIELD 4
John Marshall 1-2-3 — 6
Northfield 0-2-2 — 4
John Marshall: JT Veney 1 goal; Cody Ahlstrom 1 goal, 1 assist; Mason Decker 2 goals; Ole Fevold 1 goal, 2 assists; Damon Miller 1 goal; Adam Hegrenes 1 assist; Aaron Terpstra 1 assist. Goalie: Cody Vlasaty 44 saves (48 shots).
Northfield: Brayden Olson 3 goals, 1 assist; Cayden Monson 1 goal; Will Cashin 2 assists; Kamden Kaiser 1 assist; Ty Frank 1 assist; Mike Fossum 1 assist. Goalie: Max Frank 12 saves (17 shots).
ROCHESTER — Mankato East scored the first goal of a Big Nine Conference boys hockey game on Thursday at Graham Arena IV.
Apparently, that didn't set well with Rochester Century.
The Panthers responded 36 seconds later to tie the score, then 63 seconds after that to score the game winner. In fact, Century's offense just continued to roll, putting up a dozen goals in a 12-1 victory against the Cougars.
Kyle Lappi took care of things on his end, making 28 saves to earn the win in net.
Among the other highlights for the Panthers (8-2-0 Big Nine, 11-8-0 overall): Senior captain Jonah Ottman recorded his first varsity hat trick, Bennett Pronk scored twice and had a five-point game, Aiden Emerich notched a short-handed goal, and sophomore Wylie Jensen scored his varsity goal.
In all, 13 Panthers recorded at least one point in the lopsided victory against East (5-5-0, 7-12-0), and eight of them had multi-point games.
Pronk led the way with a five-point night (two goals, three assists). Ottman (three goals); Brody Josselyn (one goal, two assists); T.J. Gibson (one goal, two assists) and Blake Kanz (three assists) had three-point games. Three Panthers had two-point nights: Emerich, Jonathan Burmester and Justin Sutton had a goal and an assist each.
East's Andrew Bastian scored 7:29 into the game to give his team a brief lead, but Jonah Ottman and Burmester answered almost immediately, scoring 99 seconds apart to give Century the lead for good. Pronk scored his first of the night late in the first period to make it 3-1.
Century then tacked on six goals in the second — by six different scorers — and three more in the third to cap the scoring.
The Panthers outshot the Cougars 30-29.
Century has a key stretch of games over the next eight days, beginning at 7:30 p.m. Saturday against cross-town rival John Marshall at Graham Arena IV. Century then plays at Owatonna on Tuesday, at home against Northfield on Thursday, and at rival Rochester Mayo on Saturday, Feb. 11.
CENTURY 12, MANKATO EAST 1
East 1-0-0 — 1
Century 3-6-3 — 12
Mankato East: Andrew Bastian 1 goal; Zachary Lebens 1 assist; Rafe Bowman 1 assist. Goalies: Brody Kunst 16 saves (25 shots); Lucas Rheaume-Barnett 2 saves (5 shots).
Century: Brody Josselyn 1 goal, 2 assists; Jonah Ottman 3 goals; Jonathan Burmester 1 goal, 1 assist; Justin Sutton 1 goal, 1 assist; Jack Billings 1 assist; Aiden Emerich 1 goal, 1 assist; Bennett Pronk 2 goals, 3 assists; T.J. Gibson 1 goal, 2 assists; Owyn Tomminello 1 assist; Jack Ottman 1 goal; Andrew Hedin 1 assist; Blake Kanz 3 assists; Wylie Jensen 1 goal. Goalie: Kyle Lappi 28 saves (29 shots).
AUSTIN 3, RED WING 3, OT (tie)
Austin 1-2-0-0 — 3
Red Wing 1-1-1-0 — 3
Austin: Grady Carney 2 assists; Toby Holtz 2 assists; Isaac Stromlund 1 goal; Sam Eyre 1 goal; Matthew Phanchan 1 goal. Goalie: Ethan Knox 57 saves (60 shots).
Red Wing: Ethan Anderson 1 goal, 1 assist; Landin Ramstad 1 goal, 1 assist; Conner Preston 1 goal, 1 assist; Sam Knowlton 2 assists. Goalie: Ellis Petersmeyer 41 saves (44 shots).
— — —
ALBERT LEA 5, WINONA 2
Albert Lea 0-2-3 — 5
Winona 1-1-0 — 0
Albert Lea: Tim Chalmers 1 goal, 1 assist; Spencer Vanbeek 1 assist; Jack Ladlie 1 goal, 1 assist; Eli Farris 2 goals, 1 assist; Joseph Yoon 2 assists; Jaeger Miller 1 goal, 1 assist; Connor Pirsig 2 assists. Goalie: Dakota Jahnke 36 saves (38 shots).
Winona: John Vail 1 goal; Aven Prodzinski 1 goal; Easton Kronebusch 1 assist; Teis Larsen 1 assist. Goalie: Michael Dubek 39 saves (44 shots).
— — —
La CRESCENT 7, BLACK RIVER FALLS 3
La Crescent 1-4-2 — 7
Black River Falls 1-2-0 — 3
La Crescent-Hokah: Wyatt Farrell 1 goal, 1 assist; Mitchell Reining 1 goal, 1 assist; Nikolas Kubecka 1 goal, 1 assist; Logan DeBoer 1 assist; Colton Holzer 1 assist; Nathan Masterson 1 assist; Jan Bla'ha 1 goal, 2 assists; Cooper Carlson 2 goals, 1 assist; Ethan Myhre 1 goal. Goalie: Logan Yehle 24 saves (27 shots).
Black River Falls: Drew Apicella 1 goal, 2 assists; Calvin Lakowske 1 goal, 2 assists; Wyatt Tennant 1 goal. Goalie: Christopher Muir 54 saves (60 shots).