Boys hockey results for Tuesday, Feb. 7, 2023: Century earns revenge at Owatonna; JM runs win streak to 6
A scoreboard of Tuesday's southeastern Minnesota boys hockey games.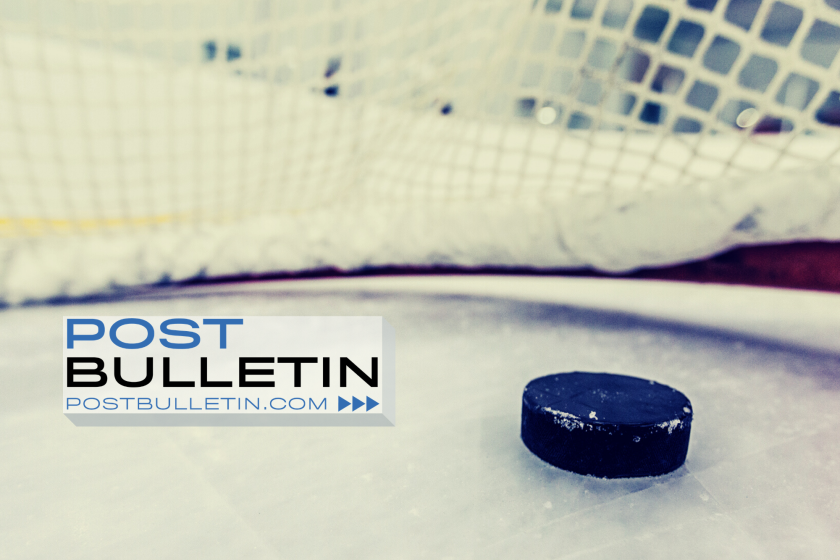 OWATONNA — Rochester Century's big players came through in a big situation Tuesday night, helping the Panthers beat Owatonna 5-1 in a Big Nine Conference boys hockey game to earn a split of the season series against their rivals.
Century (9-3-0 Big Nine Conference, 12-9-0 overall) also gave itself a boost when it comes to lobbying for seeding position in the upcoming Section 1AA playoffs. The Panthers are likely in a three-team cluster with Owatonna and Rochester John Marshall, battling for the Nos. 5-7 seeds in the section. Century and JM split their season series; Owatonna and JM will play for the only time this season, next Wednesday in Rochester.
Tuesday, Kyle Lappi made 18 saves to backstop Century's victory. T.J. Gibson scored two goals and assisted on the game winner, while Aiden Emerich (one goal, one assist); Jack Billings (two assists); Eddy Retzlaff (two assists) and Blake Kanz (one goal, one assist) all had two-point games.
Gibson put Century up for good 3:02 into the second period, when he scored the game's first goal. Seven minutes later, he set up Emerich for a power play goal that held up as the game winner.
Joseph Webster scored the lone goal for Owatonna (5-4-2, 9-9-2) with 1:19 to play in the second, pulling the Huskies within 2-1 after two.
Century pulled away in the third, as Gibson scored seven minutes in, then Jack Ottman and Kanz added goals in the final three minutes to seal the win.
The Panthers earned a bit of revenge, as Owatonna had defeated them 4-1 back on Jan. 28 at Graham Arena IV.
Century hosts Northfield at 7:15 p.m. Thursday at Graham IV.
CENTURY 5, OWATONNA 1
Century 0-2-3 — 5
Owatonna 0-1-0 — 1
Century: Jonah Ottman 1 assist; Jack Billings 2 assists; Aiden Emerich 1 goal, 1 assist; T.J. Gibson 2 goals, 1 assist; Jack Ottman 1 goal; Eddy Retzlaff 2 assists; Blake Kanz 1 goal, 1 assist. Goalie: Kyle Lappi 18 saves (19 shots).
Owatonna: Joseph Webster 1 goal; Andrew Mitchel 1 assist; Broderick Goodnature 1 assist. Goalie: Porter Kuchenbecker 21 saves (26 shots).
ROCHESTER — Rochester John Marshall just continues to win.
The Rockets scored twice in the first period Tuesday at the Rochester Recreation Center en route to a 5-1 Big Nine Conference boys hockey victory against Austin High.
The win is the sixth in a row for JM and the eighth in its past nine games.
JM has allowed just 2.1 goals per game during its current winning streak, while scoring 4.2 goals per game.
Tuesday, the Rockets even received some offensive output from up and down the lineup.
Senior forward Adam Mullenbach scored his first goal and third point of the season, while goalie Thor Shelley picked up his second victory of the year and added an assist, his first varsity point.
JM led 2-0 after one period and 4-0 after two.
The Rockets (6-5-1 Big Nine, 12-9-1 overall) extended their lead to 5-0 in the third period, before Isaac Stromlund scored Austin's lone goal with 6:46 to play.
Mullenbach added an assist, for a two-point game, while Damon Miller scored twice, and Aiden Kang and Mason Decker had two assists each.
Mike Greiner and Ole Fevold added a goal each, and JT Veney, Cody Ahlstrom and Adam Hegrenes had one assist each.
In addition to recording his first assist, Shelley made nine saves to get the win in goal for JM. Shelley split time with senior Cody Vlasaty, who made three saves in the first period, on Senior Night.
Goalie Daran Plunkett made 53 saves for the Packers (1-11-1, 3-15-1).
JM is idle until a crucial matchup for Section 1AA seeding purposes, against Owatonna next Wednesday, Feb. 15, at the Rec Center. Austin plays at Faribault at 6 p.m. Thursday.
JOHN MARSHALL 5, AUSTIN 1
Austin 0-0-1 — 1
John Marshall 2-2-1 — 5
Austin: Isaac Stromlund 1 goal. Goalie: Daran Plunkett 53 saves (58 shots).
John Marshall: Mike Greiner 1 goal; Adam Mullenbach 1 goal, 1 assist; Mason Decker 2 assists; Ole Fevold 1 goal; JT Veney 1 assist; Cody Ahlstrom 1 assist; Damon Miller 2 goals; Thor Shelley 1 assist; Aiden Kang 2 assists; Adam Hegrenes 1 assist. Goalies: Cody Vlasaty 3 saves (3 shots); Thor Shelley 9 saves (10 shots).
MANKATO — Gryffon Funke scored 15 seconds into the second period to start the scoring in a non-conference boys hockey game against Mankato West Tuesday night. The goal was the start of a hat trick for Funke and the start of a 5-1 win for Dodge County at All Seasons Arena.
Jeremiah Peterson-Gordon added a goal and an assist for the Wildcats (12-9-0 overall), as did Dylan Klomps.
Jackson Roethler made 25 saves to earn the victory, including 14 saves in the third period.
West (6-12-3) got a goal from Blake Murphy and 21 saves from Mason Schreiber in defeat.
Dodge County has now won two consecutive games; it will face Somerset (Wis.) at 3 p.m. Saturday at Dodge County Ice Arena in Kasson.
DODGE COUNTY 5, WEST 1
Dodge County 0-3-2 — 5
Mankato West 0-1-0 — 1
Dodge County: Jeremiah Peterson-Gordon 1 goal, 1 assist; Isaac Nelson 1 assist; Dylan Klomps 1 goal, 1 assist; Riley Freiderich 1 assist; Gryffon Funke 3 goals; Brett Ludvigsen 1 assist; Spencer Nierman 1 assist. Goalie: Jackson Roethler 25 saves (26 shots).
Mankato West: Blake Murphy 1 goal; Carter Mihm 1 assist. Goalie: Mason Schreiber 21 saves (26 shots).
MANKATO EAST 3, WINONA 1
Mankato East 2-0-1 — 3
Winona 1-0-0 — 1
Mankato East: Zach Lebens 1 goal; Andrew Bastian 1 goal, 1 assist; Luke Lebens 1 goal; Shae Gavin 1 assist. Goalie: Lucas Rheaume-Barnett 19 saves (20 shots).
Winona: Aven Prodzinski 1 goal; Teis Larsen 1 assist. Goalie: Michael Dubek 46 saves (48 shots).
— — —
ONALASKA (Wis.) 7, La CRESCENT-HOKAH 6
Onalaska 4-1-2 — 7
La Crescent 1-3-2 — 6
Onalaska (Wis.): Gus Wiener 1 goal; Sebastian Smith 1 assist; Colin Comeau 3 goals, 1 assist; Noah Gillette 2 goals; Jude Alvarado 1 goal; Parker Lycke 1 assist; Gavin Schuster 1 assist. Goalie: Joshua Pogreba 26 saves (32 shots).
La Crescent-Hokah: Wyatt Farrell 2 goals; Mitchell Reining 1 assist; Logan DeBoer 1 assist; Colton Holzer 1 goal, 1 assist; Jan Bla'ha 1 goal, 2 assists; Alex Von Arx 1 goal, 1 assist; Ethan Myhre 1 goal, 1 assist. Goalies: Collin Morken 26 saves (29 shots); Logan Yehle 6 saves (10 shots).