Boys hockey results for Tuesday, Jan. 31, 2023
A roundup of Tuesday's southeastern Minnesota boys hockey games.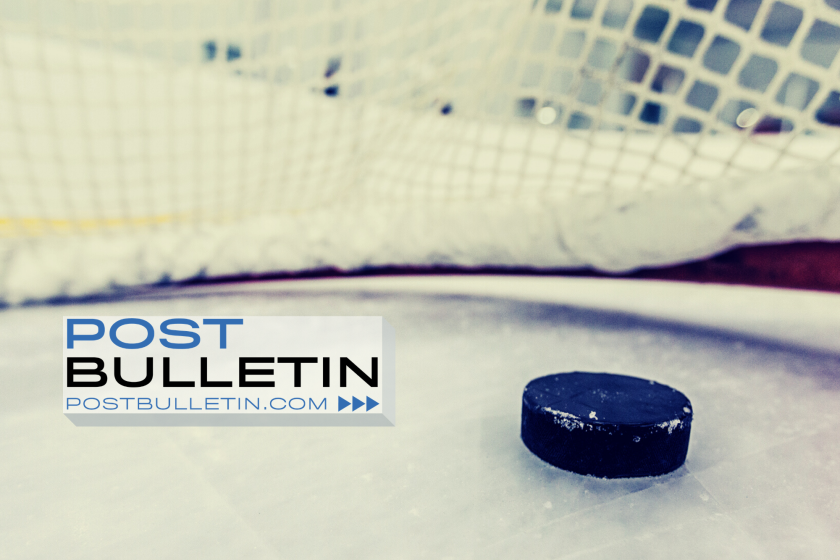 ROCHESTER — Thor Shelley recorded his first varsity victory in goal — making an impressive 35 saves — as he backstopped John Marshall to a 3-2 non-conference boys hockey win in overtime against Windom on Tuesday at the Rochester Recreation Center.
Mason Decker was the hero on the other end for JM, which improved to 9-9-1 overall. Decker scored twice in the game, including the game-winning goal in OT, with just 1 second to play. Decker also scored the tying goal, with just 1:34 to go in regulation, to force overtime.
Aaron Terpstra scored the first goal of the game, giving JM a 1-0 lead exactly 3 minutes into the second period.
Windom answered in the first five minutes of the third period, with goals from Brady Espenson and Wriley Haugen, 1:36 apart, to take a 2-1 lead.
Decker was the lone Rocket to have a two-point game. Adam Hegrenes, Cody Ahlstrom, JT Veney, Brock Clarey, Ole Fevold and Aiden Kang had one assist each.
JM returns to Big Nine Conference play against Northfield, the No. 6-ranked team in Class A, at 7:15 p.m. Thursday.
JOHN MARSHALL 3, WINDOM 2, OT
Windom 0-0-2-0 — 2
John Marshall 0-1-1-1 — 3
Windom: Brady Espenson 1 goal; Cragen Porath 1 assist; Wriley Haugen 1 goal; Brad Gentry 1 assist; Chase Hamlett 1 assist. Goalie: Adam Dahna 35 saves (38 shots).
John Marshall: Aaron Terpstra 1 goal; Adam Hegrenes 1 assist; Cody Ahlstrom 1 assist; Mason Decker 2 goals; JT Veney 1 assist; Brock Clarey 1 assist; Ole Fevold 1 assist; Aiden Kang 1 assist. Goalie: Thor Shelley 35 saves (37 shots).
Mayo 2, Owatonna 2, OT (tie)
OWATONNA — Mayo forward Jacob Brown scored on the first shift of a Big Nine Conference boys hockey game Tuesday night at Four Seasons Centre.
That gave the Spartans a quick lead — and Mayo never trailed in the game, but it ended in a 2-2 tie against rival Owatonna.
After Brown's goal 31 seconds into the game, Rocco Corl put Mayo up 2-0 at the 7:24 mark of the first period. That was it for Mayo's scoring, though.
Owatonna rallied to pull within one goal after one period, on a Benjamin Bangs goal late in the first. The Huskies then tied the score 7:23 into the second period on a Jackson Kath goal.
That was it for the scoring in the game, though.
Both goalies — Mayo's Nick Weick and Owatonna's Porter Kuchenbecker — made 17 saves in the game.
Mason Leimbek and Matthew Siems had one assist each for the Spartans, who are now 8-2-1 in the Big Nine and 13-4-2 overall. Owatonna is now 5-2-2 in the conference and 7-8-2 overall.
Mayo is back in action Thursday night in a non-conference game, when it hosts Section 1AA rival Lakeville North at 7:15 p.m. at Graham Arena I.
MAYO 2, OWATONNA 2, OT
Mayo 2-0-0-0 — 2
Owatonna 1-1-0-0 — 2
Mayo: Rocco Corl 1 goal; Jacob Brown 1 goal; Mason Leimbek 1 assist; Matthew Siems 1 assist. Goalie: Nick Weick 17 saves (19 shots).
Owatonna: Benjamin Bangs 1 goal; Jackson Kath 1 goal; Joseph Webster 1 assist; Andrew Mitchel 1 assist; Charles Valeto 1 assist; Andrew Skov 1 assist. Goalie: Porter Kuchenbecker 17 saves (19 shots).
NEW ULM — A Rochester Lourdes team that has been hit hard by injuries and illnesses hung with the No. 13-ranked team in the state for most of the game, before falling 5-3 to New Ulm on Tuesday night.
Xander Carter-Kleven made 45 saves for Lourdes, while Vinny Harens, Peyton Loeslie and Colton Rich scored once each.
Loeslie and Harens scored in the first period, which ended with the score tied 2-2.
New Ulm took the lead for good on a Jack Albrecht power-play goal 2:45 into the second period. Austin Uecker scored seven minutes later for a 4-2 lead, a goal that held up as the game winner.
Rich scored his eighth goal of the season with three minutes to go in the second, pulling Lourdes within one after two, but Uecker scored again — on a power play — midway through the third period to stretch New Ulm's lead to two and cap the scoring in the game.
New Ulm improved to 17-2-1 with the win, while Lourdes is now 7-12-0.
Lourdes is back in action Friday, when it hosts Fairmont at 7 p.m. at Graham Arena I.
NEW ULM 5, LOURDES 3
Lourdes 2-1-0 — 3
New Ulm 2-2-1 — 5
Lourdes: Vinny Harens 1 goal; Peyton Loeslie 1 goal, 1 assist; Colton Rich 1 goal. Goalie: Xander Carter-Kleven 45 saves (50 shots).
New Ulm: Nick Zins 1 goal; Austin Uecker 2 goals, 1 assist; Jack Albrecht 1 goal, 1 assist; Wesley Grob 1 goal; Kaden Larson 1 assist. Goalie: Bryer Hoffmann 29 saves (32 shots).