Saturday's boys hockey: Lourdes rallies past Breck in OT
A scoreboard of Saturday's boys hockey games.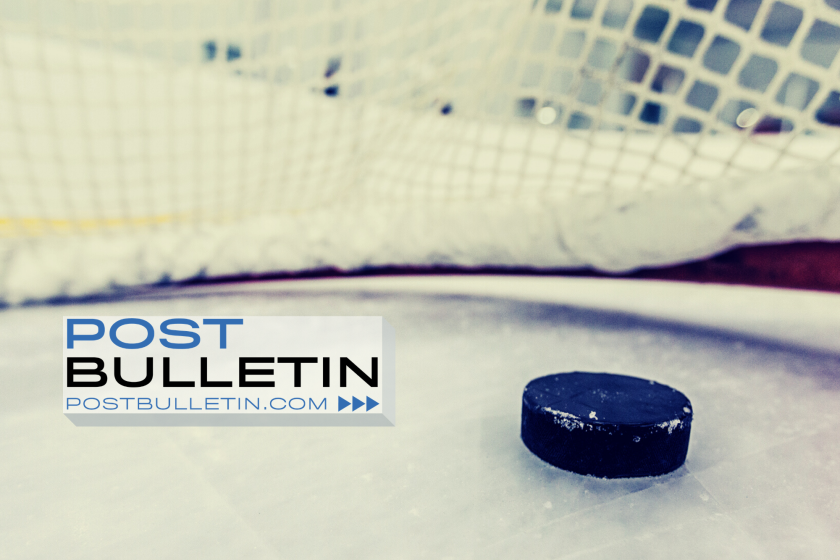 Rochester Lourdes rallied from a goal down in the third period to force overtime, then kept grinding until three underclassmen connected on the game-winning goal.
With time winding down, Jack Roe and Peyton Loeslie set up teammate Aidan Ritter for the game winner — his eighth goal of the season and second point of the game — to lift Lourdes to a 3-2 non-conference boys hockey victory against Breck at Graham Arena I on Saturday night.
Lourdes won for the fourth time in five games and improved to 12-5-0 overall.
Loeslie had a hand in all three Lourdes goals and Xander Carter-Kleven had another outstanding performance in goal for the Eagles. The sophomore netminder stopped 36 of the 38 shots he faced to improve to 11-5-0 as a starter this season, lower his goals-against average to 2.04 and up his save percentage to .929.
After a scoreless first period, the Eagles got on the board first.
Loeslie scored 1:44 into the second period, with assists from Ritter and Jackson Heim.
Breck's Will Potter scored midway through the second to make it a 1-1 game after two.
The Mustangs (4-10-0) took their only lead 2:29 into the third on a Nate Miller power-play goal. But Lourdes senior leader and defenseman Charlie Kielty answered 3:19 later with his 10th goal of the season — assisted by Loeslie — to tie the score 2-2.
Breck goalie Jack Thomson matched Carter-Kleven's performance, making 45 saves in the loss.
Lourdes is scheduled to play for the third time in four days on Monday, at 5 p.m. at Minnehaha Academy.
LOURDES 3, BRECK 2, 0T
Breck 0-1-1-0 — 2
Lourdes 0-1-1-1 — 3
Breck: Will Potter 1 goal; Nate Miller 1 goal; Charlie Tucker 1 assist; Josh Hanson 1 assist. Goalie: Jack Thomson 45 saves (48 shots).
Lourdes: Charlie Kielty 1 goal; Jackson Heim 1 assist; Peyton Loeslie 1 goal, 2 assists; Jack Roe 1 assist; Aidan Ritter 1 goal, 1 assist. Goalie: Xander Carter-Kleven 36 saves (38 shots).
• • • • •
ALBERT LEA 4, JOHN MARSHALL 1
ALBERT LEA — John Marshall fell behind early and couldn't dig out of a hole in a Big Nine Conference game Saturday, falling 4-1 to Albert Lea.
The Tigers scored twice in the first period to take the lead for good and send JM (3-3-0 Big Nine, 5-9-0 overall) to its seventh loss in eight games.
Luke Hilleshiem scored the lone goal for JM, at the 7:35 mark of the third period, to cut the Rockets' deficit to 2-1. But Albert Lea (5-3-0, 12-3-0) answered 2:08 later, as Joseph Yoon scored the first of his two goals. He tacked on his second with 3:16 to play.
Cody Vlasaty made 19 saves for the Rockets.
JM returns to action Tuesday when it hosts rival Century at 7:15 p.m. at the Rochester Recreation Center.
ALBERT LEA 4, JOHN MARSHALL 1
John Marshall 0-0-1 — 1
Albert Lea 2-0-2 — 4
John Marshall: Luke Hilleshiem 1 goal; Mason Decker 1 assist. Goalie: Cody Vlasaty 19 saves (22 shots).
Albert Lea: Tim Chalmers 1 goal, 1 assist; Joseph Yoon 2 goals, 1 assist; Jared Turrubiartes 1 goal. Goalie: Dakota Jahnke 19 saves (20 shots).
• • • • •
HASTINGS 7, CENTURY 1
HASTINGS — Hastings scored early then shut down Rochester Century's offense in a matchup of Section 1AA rivals here Saturday.
The Raiders scored three first-period goals and led by six before Century got on the board in the third.
Owen Merges scored Century's lone goal, 1:13 into the third period, making the score 6-1.
Conor Cozik made 35 saves for the Panthers (6-7-0 overall).
Jake Harris and Logan DeBettignies scored two goals each for Hastings (15-2-1), which won its 11th consecutive game and beat a Rochester team for the second time in five days. The Raiders beat Rochester Mayo 3-2 in overtime on Tuesday at Graham Arena.
Century is scheduled to play at intro-city rival John Marshall at 7:15 p.m. Tuesday at the Rochester Recreation Center.
HASTINGS 7, CENTURY 1
Century 0-0-1 — 1
Hastings 3-1-3 — 7
Century: Owen Merges 1 goal. Goalie: Conor Cozik 35 saves (42 shots).
Hastings: Connor Stoffel 1 goal, 1 assist; Jake Harris 2 goals; Logan DeBettignies 2 goals; Luke Savage 1 assist; Jackson Sweeney 1 goal, 1 assist; Blake Vandehoef 1 goal; Collin Stewart 3 assists; Brody Larsen 2 assists; River McDowell 1 assist; Luke Chorlton 1 assist. Goalie: Holden Richardson 15 saves (16 shots).
NORTHFIELD 7, WINONA 0
Northfield 1-2-4 — 7
Winona 0-0-0 — 0
Northfield: Ty Frank 1 goal; Matthew DeBuse 1 assist; Spencer Klotz 2 goals, 2 assists; Kamden Kaiser 2 goals, 1 assist; Cullen Merritt 1 assist; Cayden Monson 2 goals, 2 assists. Goalie: Keaton Walock 26 saves (26 shots).
Winona: Goalie: Justin Brickner 51 saves (58 shots).
• • • • •
OWATONNA 7, RED WING 2
Owatonna 2-1-4 — 7
Red Wing 1-0-1 — 2
Owatonna: Ashton Hoffman 1 goal, 1 assist; Sam Knoll 1 assist; Joseph Webster 1 assist; Owen Beyer 2 goals, 1 assist; Joey Dobs 2 goals; Devon Roush 2 assists; Casey Pederson 1 goal; Thomas Herzog 1 assist; Caleb Vereide 1 goal, 1 assist. Goalie: Samuel Pfieffer 15 saves (17 shots).
Red Wing: Carson Ahern 1 goal, 1 assist; Tristen Peterson 2 assists; Jacob Quade 1 assist; Casey Larson 1 goal. Goalie: Dixon Ehlers 29 saves (36 shots).