Minnesota State High School League acts on proposals for changes in wrestling, football, more
At its board of directors meeting Thursday, the MSHSL approved a switch in the number of weight classes in wrestling and voted on a proposal to seed all eight teams in football state tournaments.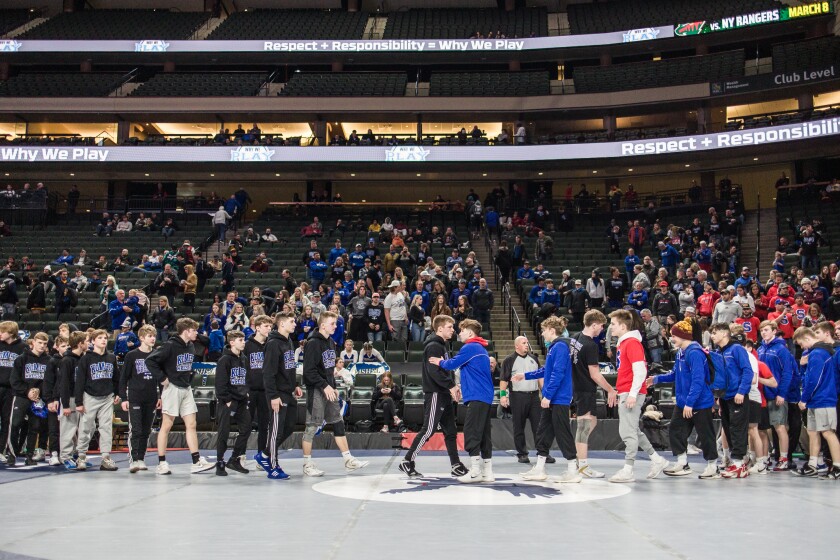 BROOKLYN CENTER — Next winter, every boys high school wrestling team in Minnesota will have one less lineup spot to fill on a nightly basis.
At its meeting Thursday, the Minnesota State High School League Board of Directors approved a proposal to change wrestling lineups to 13 weight classes — for boys and girls teams (boys wrestling currently has 14 weight classes; girls wrestling currently has 12) — beginning in the 2023-24 season.
The new weight-class structure for boys wrestling will be as follows: 107 pounds, 114, 121, 127, 133, 139, 145, 152, 160, 172, 189, 215 and 285.
Girls wrestling will include the following weight classes, beginning next winter: 100 pounds, 106, 112, 118, 124, 130, 136, 142, 148, 155, 170, 190 and 235.
For some teams that currently struggle to fill a 14-wrestler lineup, the change will be helpful.
"I love it," Century coach Joel Messick said. "It will make wrestling more competitive and actually gives underclassmen better opportunity to grow by being on junior varsity."
For teams that have larger rosters and more internal competition for lineup spots, the change will mean one less position that's available each night.
"I can see it both ways," Mayo coach Art Trimble said. "I am not a fan, as for how it affects our program as we consistently have strong upper weights in the room and the new weight classes for the most part drop out one of the upper weights. I do see how it is beneficial for programs who are struggling with numbers as they are often very short handed in the upper weights and often move a kid who is not ready into the varsity lineup.
"As with most rule changes, it is what it is and you must adapt to the new situation presented before you."
Byron co-coach Ryan Radke shares similar feelings.
"Overall the decision to switch from 14 weights to 13 helped girls wrestling by adding an extra weight but took an opportunity away from boys wrestling," Radke said. "I understand that it's tough to fill weights and we've had to forfeit weights, too, but in general it takes an opportunity away from the boys. I know part of the reason is to not have teams co-op and lose a team from each high school, which ultimately takes opportunities away. But having 14 weights gives a good representation of the various sizes of kids in our sport and now there is a weight not represented.
"On the flip side, it adds a weight to the girls side and in my opinion the best way to grow the sport is to have very similar rules, guidelines, etc. Girls and boys need 16 events each, their own state tournaments (individual and dual format), girls tournaments, etc. Pros and cons came out of today's decision but like anything that comes a coach or sport's way, you find solutions to problems and get back to work."
The Board of Directors also officially approved the expanded tournament format at the section and state tournament levels for girls wrestling. It essentially doubles the number of entrants from last year's inaugural girls state tournament.
The sport of girls wrestling has taken off around the country, but especially in Minnesota the last couple of years. The latest evidence comes in the forms of a larger postseason.
The approval of the new weight-class structure is one of a handful of significant changes approved or voted down by the MSHSL Board on Thursday. Others include:
• A proposal to seed all eight teams in state tournaments (Class 9-Man through Class AAAAA) was voted down. Currently, the state tournament quarterfinal matchups — which are played at neutral sites around the state — are pre-determined. No explanation was offered by the MSHSL, though it is believed that travel concerns played a key role in the proposal being voted down.
• A mercy rule will be implemented in boys and girls matches, both in the regular season and postseason, beginning next fall. If the goal differential in a match becomes five or greater in the second half, the clock will stop only in the event of a serious injury.
• The board also approved the elimination of overtime in regular-season matches when a match is tied at the end of regulation. Those matches will be recorded as ties.
• A proposal to add a third class in boys and girls tennis was voted down.
• The Class A boys and girls team tournaments will now seed the top five teams. The Class AA team tournament, as well as the Class A and AA individual tournaments, are already seeded.
• The MSHSL Board approved a proposal to allow volleyball teams to expand their postseason rosters from 15 players to 18, beginning in the fall.
• The Board's next meeting, which is open to the public, is scheduled for April 6 in Brooklyn Center.