Section 1A boys hockey playoff results for Friday, Feb. 24, 2023
A scoreboard of Section 1 boys hockey playoff games.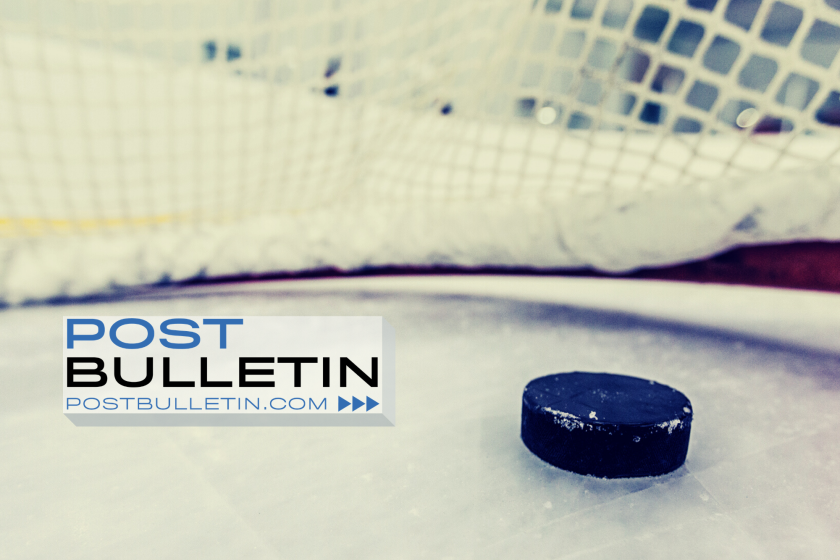 NORTHFIELD — Rochester Lourdes ran into a buzzsaw Friday night, the No. 6-ranked Northfield Raiders having flipped the switch to playoff hockey.
The top-seeded Raiders scored three times in three minutes late in the first period, then added four more in the second to pull away for an 8-1 win against eighth-seeded Lourdes in a Section 1A quarterfinal game.
Northfield (21-5-0) will face No. 4 Dodge County in a section semifinal game at 11:30 a.m. Saturday at the Rochester Recreation Center.
Jake Geiger had a hat trick and an assist for Northfield, while Will Cashin had a goal and three assists.
Brody Seim scored the lone goal for Lourdes (10-17-0), with an assist from Jack Roe.
Xander Carter-Kleven made 44 saves for the Eagles, while Keaton Walock made nine for Northfield.
NORTHFIELD 8, LOURDES 1
Lourdes 0-1-0 — 1
Northfield 3-4-1 — 8
Lourdes: Brody Seim 1 goal; Jack Roe 1 assist. Goalie: Xander Carter-Kleven 44 saves (52 shots).
Northfield: Bridger Riley 2 assists; Brecken Riley 1 assist; Ty Frank 1 assist; Jake Geiger 3 goals, 1 assist; Kamden Kaiser 1 goal, 2 assists; Will Cashin 1 goal, 3 assists; Andrew Winter 1 goal; Cayden Monson 2 assists; Griffin Kennelly 1 goal, 1 assist; Brayden Olson 1 goal, 1 assist. Goalie: Keaton Walock 8 saves (9 shots).
ALBERT LEA — Albert Lea broke open a close game with two goals in less than five minutes midway through the third period, to beat Winona 4-1 in a Section 1A quarterfinal game at Albert Lea City Arena.
The third-seeded Tigers never trailed in improving to 19-6-1 this season. They'll face No. 2 seed New Prague at 2 p.m. Saturday in a section semifinal game at the Rochester Recreation Center.
Max Edwin scored the lone goal of the first period, on a power play at the 15:02 mark.
The Tigers struck quickly in the second, as Jack Ladlie scored the game-winning goal 23 seconds in. Teis Larsen answered for Winona, scoring his 33rd goal of the season and 65th point, but that was all the offense the Winhawks (10-14-2) could manage.
Joseph Yoon and Derrek Laite added third-period goals for the Tigers to give them breathing room and win it 4-1.
ALBERT LEA 4, WINONA 1
Winona 0-1-0 — 1
Albert Lea 1-1-2 — 4
Winona: Teis Larsen 1 goal. Goalie: Michael Dubek 35 saves (39 shots).
Albert Lea: Carson Severtson 1 assist; Tim Chalmers 1 assist; Max Edwin 1 goal; Jack Ladlie 1 goal, 1 assist; Eli Farris 1 assist; Joseph Yoon 1 goal, 1 assist; Derrek Laite 1 goal. Goalie: Dakota Jahnke 16 saves (17 shots).
New Prague 3, Faribault 0
NEW PRAGUE — Faribault received an outstanding goaltending performance from Jacob Scherf, but the Falcons couldn't generate much offense in a 3-0 loss to second-seeded New Prague in a Section 1A semifinal.
Scherf made 55 saves in defeat for the seventh-seeded Falcons, who trailed the defending section champions just 1-0 entering the third period.
New Prague couldn't breathe easily until Michael Beckius scored 9:51 into the third, and Will Seymour added another insurance goal four minutes later.
John Schmidt, who signed a tender agreement this week to play next season for the Rochester Grizzlies, scored the game-winning goal 3:50 into the game.
NEW PRAGUE 3, FARIBAULT 0
Faribault 0-0-0 — 0
New Prague 1-0-2 — 3
Faribault: Goalie: Jacob Scherf 55 saves (58 shots).
New Prague: John Schmidt 1 goal, 1 assist; Will Seymour 1 goal, 1 assist; Michael Beckius 1 goal; Brendon Woitas 1 assist. Goalie: Cole Murphy 23 saves (23 shots).