Section 1AA girls hockey: End of the line for Dodge County, Rochester teams
Top seeds overwhelm Mayo, Century/JM in opening round of girls hockey playoffs.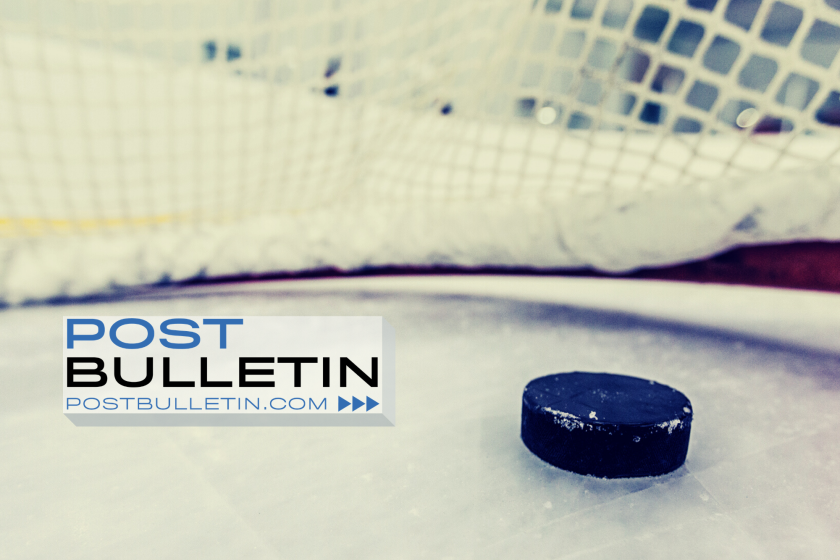 We are part of The Trust Project.
LAKEVILLE — Dodge County was within striking distance going into the third period of a Section 1AA girls hockey quarterfinals game here Wednesday, but Lakeville North broke open a close game in a 6-3 win at Ames Arena.
Fifth-seeded Dodge County (14-12-0) never led the game but was tied 2-2 after one period and trailed just 3-2 entering the third.
Fourth-seeded North scored the first three goals of the third, including a short-handed goal by Gracie Hanson just 26 seconds into the period, that held up as the game winner.
McKenzie Rich, Natalie Ahern and Abby Zeitler scored for the No. 5-seeded Wildcats.
North (12-13-1) plays at rival Lakeville South, the No. 1 seed in the section, in Saturday's semifinals.
NORTH 6, DODGE COUNTY 3
Dodge County 2-0-1 — 3
Lakeville North 2-1-3 — 6
Dodge County: Lyndi Schubert 1 assist; Emily Anderson 1 assist; McKenzie Rich 1 goal; Abby Zeitler 1 goal; Halle Determan 2 assists; Natalie Ahern 1 goal. Goalie: Ida Huber 14 saves (20 shots).
Lakeville North: Maddie Swierczek 2 assists; Gracie Hanson 3 goals, 1 assist; Ashley Wagenbach 4 assists; Hannah Weckman 1 goal; Shay Swanson 1 goal; Meredith Jensen 2 assists; Kate Swierczek 1 assist; Alexa Ruppert 1 goal, 1 assist; Gianna Gaspirini 1 assist. Goalie: Kaia Weiland 17 saves (20 shots).
• • • • •
LAKEVILLE SOUTH 11, CENTURY/JM 0
LAKEVILLE — Top-seeded Lakeville South controlled play from start to finish in a Section 1AA quarterfinal game, beating Century/John Marshall 11-0 at Hasse Arena on Wednesday.
No. 6-ranked South (24-2-0) led 2-0 after one period, then scored six second-period goals to extend its lead to 8-0 after two.
Senior Claire Enright — a University of Wisconsin commit — scored five goals and added one assist to give her 74 points for the season.
Taylor Otremba — a Minnesota State University commit — added a hat trick and an assist.
Century/JM goalie Abigail Conners made 22 saves for the Panthers, who finished the season 7-18-1.
Top-seeded South will host rival Lakeville North on Saturday in a section semifinal game.
SOUTH 11, CENTURY/JM 0
Century/JM 0-0-0 — 0
Lakeville South 2-6-3 — 11
Century/JM: Goalie: Abigail Conners 22 saves (33 shots).
Lakeville South: Brynn O'Neill 1 assist; Ryann Wright 2 goals, 1 assist; Lilly Hunst 1 assist; Taylor Otremba 3 goals, 1 assist; Ella Fowler 1 goal; Claire Enright 5 goals, 1 assist; Josie Grossman 2 assists. Goalie: Payton Lang 1 save (1 shot).
• • • • •
NORTHFIELD 10, MAYO 0
NORTHFIELD — Emerson Garlie scored 20 seconds into Wednesday's Section 1AA semifinal game to spark second-seeded Northfield to a 10-goal outburst in a 10-0 shutout against seventh-seeded Rochester Mayo.
Ayla Puppe led the way for the Raiders (18-5-3) with a goal and four assists, while Garlie and Grace McCoshen scored twice each.
Grace Kober (32 saves) and Alivia Haakenson (7 saves) split time in goal for Mayo (9-17-0). Northfield outshot the Spartans 49-14. Maggie Malecha made 14 saves for Northfield, which also received a goal and two assists from Cambria Monson.
"We ran into a very good team tonight," Mayo coach Mike McCormack said. "We challenged the girls to keep working regardless of the score.
"The girls gave their best effort in the third period when most teams would have packed it in. The coaching staff was proud of our girls' courage."
NORTHFIELD 10, MAYO 0
Mayo 0-0-0 — 0
Northfield 4-5-1 — 10
Mayo: Goalies: Grace Kober 32 saves (41 shots); Alivia Haakenson 7 saves (8 shots).
Northfield: Megan Snyder 1 goal; Isabelle Stephes 1 goal; Emerson Garlie 2 goals; Ayla Puppe 1 goal, 4 assists; Olivia Rasmussen 3 assists; Grace McCoshen 2 goals; Emily Beaham 1 assist; Ashlyn Paukert 1 goal; Cambria Monson 1 goal, 2 assists; Mia Miller 1 goal, 1 assist. Goalie: Maggie Malecha 14 saves (14 shots).
• • • • •
OWATONNA 3, FARMINGTON 2
FARMINGTON — Olivia Herzog scored 2:12 into overtime to lift sixth-seeded Owatonna to a 3-2 win against third-seeded Farmington in a Section 1AA quarterfinal game Wednesday night at Schmitz-Maki Arena.
Ezra Oien and Molly Achterkirch added a goal and an assist each for the Huskies.
Owatonna will play at Northfield on Saturday in the section semifinals.
OWATONNA 3, FARMINGTON 2
Owatonna 0-0-2-1 — 3
Farmington 0-1-1-0 — 2
Owatonna: Molly Achterkirch 1 goal, 1 assist; Olivia Herzog 1 goal; Ezra Oien 1 goal, 1 assist; Macy Stanton 2 assists. Goalie: Ava Wolfe 37 saves (39 shots).
Farmington: Sam Moehle 1 goal; Ava Johnson 1 goal; MaKenna Kadrlik 1 assist; Madison Kadrlik 1 assist. Goalie: Addison Moudry 24 saves (27 shots).