Rochester Grizzlies in unusual position entering final weekend of regular season
The Rochester Grizzlies have a chance to wrap up their fourth straight division championship this weekend, but they'll need some help.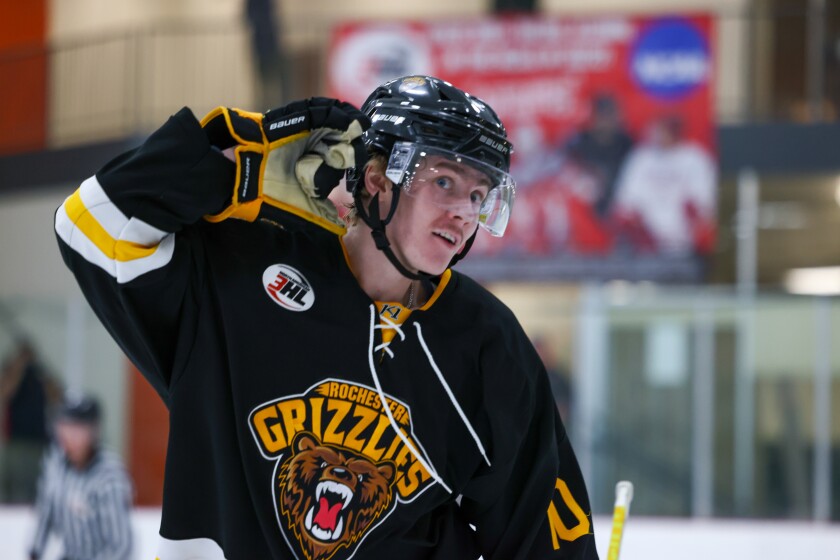 ROCHESTER — The Rochester Grizzlies have been the bar-setter for the rest of the North American 3 Hockey League Central Division over the past four years.
The Grizzlies are an incredible 140-28-11 in regular season play since the start of the 2019-20 season. They've won more than 30 games all four of those seasons, including this season.
For the first time in that span, though, Rochester enters the final weekend of the regular season in a strange position: The Grizzlies (31-9-5) don't control their destiny, in terms of winning a fourth straight regular season division championship.
Rochester won the division title by 10 points (five victories) last season. The Grizzlies won it by nine points in 2020-21 and by 17 points in 2019-20, when the postseason was wiped out by the COVID-19 pandemic.
This season, they're tied with the Oregon Tradesmen (31-9-5) atop the division standings, both teams with 67 points. Oregon holds the tie-breaker; the Grizzlies' coaching staff did the math, and if the teams end up tied after Saturday's games, they would need to go to the fourth tie-breaking criteria — total goal differential for the season — to determine the division champion and the top seed in the first round of the playoffs, which are set for next weekend.
Rochester split two games at Oregon last weekend, falling in a shootout Friday night before winning in regulation on Saturday.
"The message since we left Oregon on Saturday has been, 'OK, now we're building for the playoffs,'" Grizzlies' fourth-year head coach Chris Ratzloff said. "It's going to have to be a consistent effort every day in practice, cleaning up the locker room, every little detail has to be done the right way."
Rochester finishes the regular season with 7:05 p.m. games tonight and Saturday against the last-place St. Louis Jr. Blues (8-37-0), while Oregon closes its schedule with a home-and-home against third-place Milwaukee (29-13-3).
"It doesn't matter who the opponent is, this weekend or next," Ratzloff said. "We are what we're working on right now, so it's just doing things the right way and playing a consistent 60 minutes both nights."
Had Rochester not earned a regulation win last Saturday at Oregon, it would enter this weekend trailing Oregon by at least a point in the standings, and would be in need of much more help this weekend to win the division.
Veteran Grizzlies — Luke Morrisette, Ben Oakland, Logan Kroyman and Austin Meers — scored all four goals in Saturday's 4-1 win.
"This time of year you need your best players to be your best players," Ratzloff said, "but like other years, we like our depth, too. We're deep and it seems like someone is always there to step up when needed."
Regardless of what happens this weekend, Rochester will have home-ice advantage for next weekend's division semifinals. The schedule for that series will be set once this weekend's games are completed. Two wins this weekend for the Grizzlies means they would lock up the division title if Oregon either loses or ties one of its two games against Milwaukee.
If the Grizzlies win the division, they'll face Peoria (24-18-3) in the division semifinals; if the Grizzlies finish second, they'll face Milwaukee in the postseason openers. A trip to Peoria would mean an extra 90-120 minutes on a bus, each direction. It would also mean guaranteed home-ice advantage throughout the division playoffs.
"Home ice is huge in the playoffs," Ratzloff said. "For four years we've been better at home than we have been on the road. … We'd like to win the division (regular-season title) and get a banner but this time of year travel is a big thing.
"Going back and forth from Peoria is a lot harder than going back and forth from Milwaukee. But however it shakes out, it will be what it will be."
Bruins battling injuries, illnesses
The Austin Bruins are sitting in an enviable position heading into the final six weeks of the North American Hockey League regular season.
The Bruins are 29-11-7 and hold a 14-point lead in the Central Division standings over second-place Aberdeen.
Austin has managed to maintain that double-digits lead in the division, going 5-3-0 in eight games in February, despite battling a string of illnesses and injuries that resulted in the Bruins dressing six different goalies at times during the month, and using four of them in games. Three of those six goalies — Tyler Fromolz (Oregon Tradesmen), Adam Prokop (Milwaukee Power) and Tate Cothern (Rochester Grizzlies) — have spent a majority of their seasons in the NA3HL, but more than held their own when called up to the Bruins.
"It's great for our guys to get these wins," Bruins head coach Steve Howard said, "but we can't relax. February is a tough month for junior teams. You're six months into the season and a lot of guys haven't played that long of a season before. I'm pretty proud of the guys for finding ways to win."
The Bruins found a couple of thrilling ways to win last weekend, beating division rival St. Cloud 3-2 at St. Cloud on Friday, the winning 4-3 in overtime in Austin on Saturday.
Friday's game appeared headed to overtime when St. Cloud's Kade Peterson scored with 50 seconds to go in the third period. But the Bruins drew a penalty with 12 seconds left and went on a power play. Jimmy Goffredo fired the puck into St. Cloud's zone and chased it down behind the net. He quickly sent a pass to Josh Giuliani — at which point the Bruins bench began to holler "SHOOOT!" But Giuliani turned and sent a perfect pass into the slot where Minnesota State, Mankato commit Gavin Morrissey one-timed it into the net for the game-winning goal with 0.1 seconds to go.
"It was funny," Howard said. "Usually I'm upset when (the goal with 50 seconds to go is scored). But that was the most calm I've ever been. I said 'there's still 50 seconds left and we've dominated this game.' I just felt like we were going to win, whether it was in regulation, overtime or shootout.
"I had that feeling of 'calm down, we're playing well.' I'm sure those guys didn't know exactly how much time was left. We were all yelling 'SHOOT! SHOOT!' but (Giuliani) was calm, put it right on (Morrissey's) tape and he didn't hesitate. The puck was on his stick and off so fast."
Austin starts a four-game road trip this weekend when it plays at Bismarck tonight and Saturday. The Bruins will then play at Aberdeen on March 10-11, before returning home to face Bismarck March 17 and 18. Bismarck and Aberdeen are part of a five-team cluster, separated by just five points, behind the Bruins in the Central Division standings.